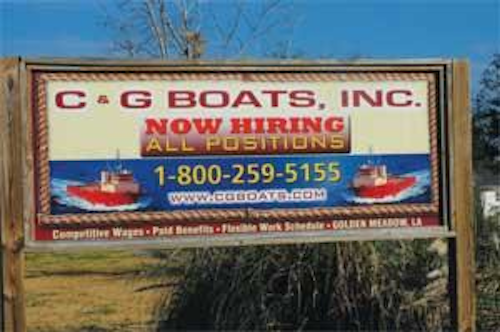 In stark contrast to much of the US, in Lafourche Parish "help wanted" signs are as prevalent as the bayou and shrimp boats.
"While the national economy has slowed and people are losing their jobs, we haven't seen the slow down here," says Danos & Curole Vice President of Domestic Operations Paul Danos. "Job seekers recognize the need here and consequently we've had a great deal of interest from as far as Detroit, Florida, Oklahoma, and New York."
The demand for workers is so strong the 62-year-old family-owned company, which provides supplemental labor and related services, recently constructed a second bunkhouse at its Larose headquarters to accommodate workers from outside the area.
Danos says the most pressing needs include specialized disciplines such as offshore and onshore crane operators, I&E technicians, mechanics, logistical personnel, production operators, welders, project managers, and a wide range of maritime positions. He adds that the skill sets of any number of workers displaced from other industries as well as soon-to-be-discharged US military personnel can be transferred with specialized training and development to the offshore and the onshore support environments.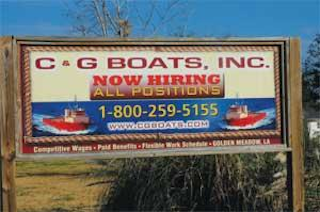 It is impossible to drive down a roadway in Lafourche Parish without seeing "help wanted" signs.
Click here to enlarge image
"Our core competency is in developing people. We can work with people with no experience in the oilfield and put them through a comprehensive, hands-on training and development program. In addition, every person we send to a customer's operation has completed an intensive four-day training program that educates them in our safety culture and provides hands on, practical training for their work. That is a real asset to our customers."
"Some companies provide labor. We provide a service," adds Manuel Merlos, division manager – Labor Services.
In addition to providing a supplemental labor force, Danos & Curole provides Construction and Fabrication services and recently established a Coatings Division to paint and blast offshore platforms and onshore industrial structures. The company also created a Professional Safety Services Division offering a suite of enhanced services designed to provide clients a "total safety and environmental management plan to reduce losses from employee injuries, property damage, and environmental incidents."
To properly match available personnel with a client's requirements, Danos & Curole also developed a personnel tracking software system.
"What this involves is matching the specifications for the position the company is looking to fill with an individual who has the proper certifications or qualifications, says Paul Danos. "Every employee in our system has a link to all of their training, certifications, and skill levels. That way, the customer is assured we have sent the right person for a specific job."
Danos & Curole says the key differentiator with its services is the focus on training and safety. According to the company website, "Our commitment to training is a reflection of our core values. Danos and Curole provides quality training to our employees through a well managed and documented process. Our training is designed to meet or exceed compliance standards set by government agencies, expectations of customer contracts, company best practices, and job-specific skills."
The company offers nearly 300 courses for employee development covering curriculums devoted to training in such areas as core compliance, DEVELOP Production Personnel, core initiatives, and DOT-OQ Leadership.
Danos & Curole was recently awarded the Houma District 2009 Minerals Management Service SAFE Award and is a 2009 nominee for the MMS' National SAFE award.
---

Work It! Grooming tomorrow's workforce today
Jane Arnette makes no attempt to curb her enthusiasm when she discusses a program aimed at molding a new generation of workers for the southernmost parishes of Louisiana.
The executive director of the South Central Industrial Association says the group's Work It! The Louisiana initiative has been a hit with students, teachers, and business leaders. Described as "a creative marketing and recruitment plan" to address current employment needs, the long-term goal is to educate students on job opportunities and salary expectations.
The pilot program encompasses seven parishes, including Lafourche, Terrebonne, St. Mary, Assumption, St. John, St. James, and St. Charles. Arnette says Work It! Louisiana is "motivated and executed by local businesses, with the total support of educational system."
"Others have tried somewhat similar approaches, but none of those were ever structured as a team approach generated from the business aspect. In the past they were always generated from the education side of it. We felt like we needed to look at long-term recruitment and the only way to do that is through the children of Louisiana," Arnette says.
She explains the program is designed to encourage the student to "value and take pride" in any chosen career path. The strategy involves an aggressive media campaign including classroom posters, media advertisement, a website, classroom career videos, career link events, speaker's bureau, and is driven further by teacher Work It! champions from each participating school. Arnette says the initiative focuses on local students, who do not have the financial means or inclination to attend a college or university.
"We're trying to expose them to multiple career paths and we're doing that through several initiatives, including having champions in every school from grades 6-12. We're not requesting the presidents of companies speak to these kids, but the working class guy. Recently, we had a guy speak on how geometry is used in drilling. It was awesome and so motivating. The kids were excited, the teacher was excited and the speaker was excited. We also brought in a boat captain and when he told the kids he was making $100,000 a year, that got their attention," she says.
The work has not gone unnoticed at higher levels. In July 2008, Louisiana legislators approved $370,000 in state funding with the Louisiana Economic Development and the Louisiana Department of Education promising additional monies.
"Our objective is to bring nobility back to our work force and that's critical because these kids have always been told that if they don't go to college they're somehow lacking. We want these kids to feel good about their career choices. We want them to take pride in their careers. That's what we're all about."