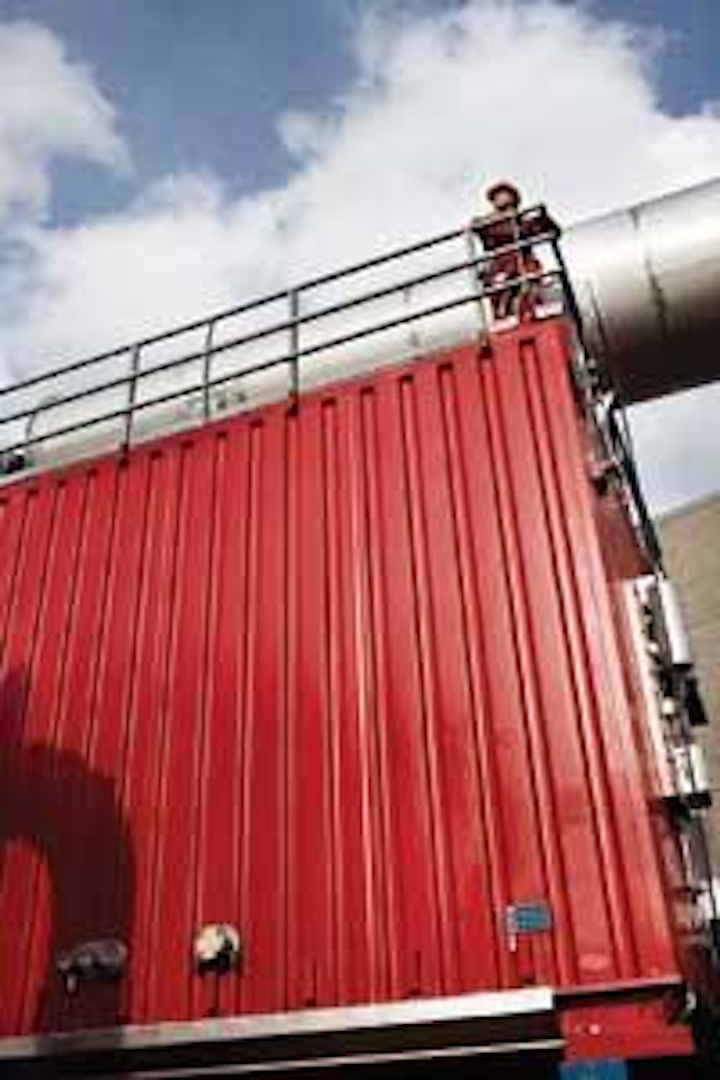 Bergen-based Frank Mohn is supplying StatoilHydro's Gjøa platform in the North Sea with what it says are the world's largest firewater pumps. The four fire-pump systems each have capacity of 3,700 cu m/hr, or 1,030 l/sec (272 gal/sec) – the equivalent output to about 20 modern fire engines combined.
Testing of the systems was completed last fall, and these were due for delivery last month to the Aker Stord yard in Norway, where the Gjøa floating production platform is being assembled.
Since Frank Mohn supplied its first firewater pumps to Phillips' Ekofisk field in 1977, the system has been continually developed and improved, into what the company claims is one of the most efficient and reliable firepump systems available. It has delivered some 340 fire-pump systems to offshore customers worldwide.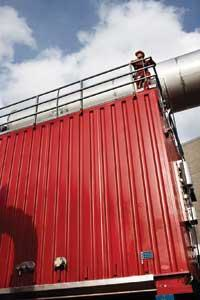 One of the four Frank Mohn firewater pump systems for StatoilHydro's Gjøa platform.
Click here to enlarge image
With the trend towards more open and better ventilated process plant areas, fire-pump systems have to cover larger areas while still meeting regulatory standards for water delivery. The Norsok standards applying in the Norwegian offshore sector stipulate delivery of 10 l/sq m/min for general process areas and 20 l/sq m/min in the wellhead area.
Increased capacity of fire-pump systems is critical in this regard. As Eivind Røte, mechanical application manager at Frank Mohn, notes, "Capacity is probably the area where most progress has been made in developing firepump systems. The earlier versions had capacity of a mere 500 cu m/hr."
Frank Mohn supplies the complete system, including driver set, controls, fuel supply, and cooling systems. Apart from the submersible pump and the riser pipe in which it is installed, the rest of the equipment, including generator sets and diesel engines for driving the pump, control system, fuel supply, cooling systems, and other utilities, is delivered in a container ready for installation. This facilitates hook-up and reduces the time needed for on-site assembly.
"This also gives us full control over the end product, something we see as a major advantage," says Røte. "When the pump system has been assembled and tested, we know it works as it should."
Each system has to be able to operate autonomously for 18 hrs, potentially in the middle of a fire. The container therefore is made of fire-rated steel and pressurized to safeguard against the entry of gas, while an air cooling system maintains the temperature inside it at below 40º C (104º F). There are also internal fire and gas detection systems and a fire extinguishing system.
To prevent corrosion, duplex or super duplex stainless steel is used for all parts of the system that come into contact with seawater.
For Gjøa delivery, each container has an operating weight of 88 metric tons (97 tons) and dimensions of 10.6 x 4.8 x 5 m (34.8 x 15.7 x 16.4 ft). They will be located in pairs on either side of the living quarter's module, where the fire risk is lowest. The submersible pumps are driven by an integrated submerged electric motor – hydraulic drives are also used, but electric drives are normally more cost-efficient for pumping volumes of 2,000 cu m/hr and more, Røte says.
The generating sets deliver total power of 2.8 MW to the four pump systems. Water starts reaching the fire-water ring main within 12 sec of the pumps being activated.
Systems supplied to a floater such as Gjøa must operate even if the platform is listing as much as 25º. Special designs have therefore been developed for the lube oil and fuel supply system to the engines and the bearings on the generators. The engines also are fitted with oil pans configured to ensure continued lubrication in the maximum inclined position.
Winter demands
Frank Mohn has further developed its fire-pump systems for use in extreme climatic conditions. In 2003 and 2004 it delivered systems to Shell's Sakhalin II development in the Russian Far East, probably the most challenging set of conditions yet faced, with temperatures varying from as low as -46º C (-51 º F) in the winter to intense heat in the summer, with the added risk of earthquakes.
The company has since supplied systems to Eni's Kashagan development in the Kazakh sector of the Caspian Sea and Sevmorneftegaz's Prirazlomnoye platform in the Russian Barents Sea.