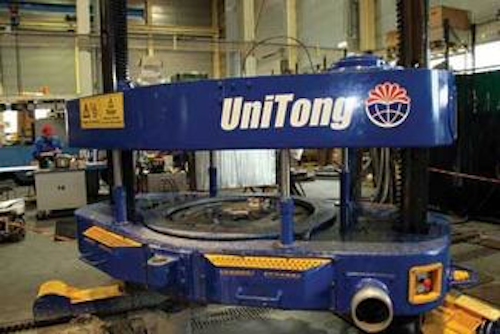 The UniTong power tong from V-Tech International is designed to improve safety and efficiency of drill floor operations. Last year the product won both the Woelfel Best Mechanical Engineering Award and the Spotlight on New Technology Award at OTC in Houston.
Towards year-end 2007, V-Tech delivered the first commercial version of the power tong to StatoilHydro's Veslefrikk drilling platform in the Norwegian North Sea. Early in 2008, it made a further delivery on behalf of Shell to Ocean Rig'sLeiv Eiriksson semisubmersible drilling rig.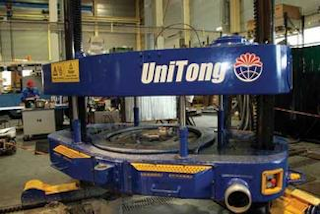 V-Tech's UniTong power tong.
Click here to enlarge image
The company since has signed an order for a further two units with drilling contractor Saipem, both due for shipment in August, with more offers or studies under way for around 20 prospective customers.
One of UniTong's main selling points is improved security of pipe-handling on the drill floor. Make-up and break-out are fully automated, with the result that no crew is needed in the red zone. A single operator can monitor and control the operation from within the driller's cabin.
The HSE benefits are a main reason Statoil, now StatoilHydro, has supported the UniTong development since it started around five years ago. According to V-Tech's R&D manager Helge Ruben Halse, who invented the concept, Statoil provided important input for the design plus the opportunity to put the prototype through its paces on Veslefrikk. Other supporters included Innovation Norway, the Veslefrikk drilling contractor Seadrill, and the AMV workshop in southern Norway which built the machine.
UniTong is also the first field-tested power tong capable of handling drillpipe, tubing, and casing in all sizes. Thus, it dispenses with the need, for example, to hire specialized casing contractors to bring in personnel and equipment.
Two clamphouses cater for all pipe dimensions, one for sizes from 2 7/8-in. to 10 3/4-in. (7 to 27 cm), and one for 9 5/8-in. to 16-in. (22.5 to 40.6 cm). For floating rigs there is the option of a third clamphouse for the 18 5/8-in. (47 cm) and 20-in. sizes (51 cm).
The clamphouse, Halse explains, is the heart of the concept. It is a split house with four double-acting hydraulic cylinders. The design increases the radial stroke of the cylinders, permitting a range of diameters to be covered. A specially designed jib crane with an L profile is employed for changing out the clamphouses.
Another feature improving safety and lessening maintenance is the fact that UniTong remains concentric to the drillstring during operations – unlike a conventional tong which has to move back and forward for each connection. The jaws form a closed ring when clamping on the pipe, so unlike the conventional tong with its u-shaped jaws, they are less likely to suffer fatigue.
UniTong is powered by a Hägglunds drive system, which delivers the spin make and break with precise control of the torque applied so as to avoid damaging the threads. The UniTong system includes a torque/turn computer for programming the required torque. Load cells monitor the torque during make-up. When the required level is reached, the drive system dumps the torque in fractions of a second.
While conventional equipment has become generally more complex, UniTong has been designed as a dramatically simplified mechanism, Halse says, with the emphasis on reliability, in the process reducing downtime and maintenance. Where possible, equipment which is conventionally separate has been integrated into it, including thread-cleaning and doping during make-up, while during tripping a fully integrated mud bucket catches the fluid released by each pipe section.
UniTong also can perform all the lifting operations on the rotary table including lifting out the slips. This is another safety benefit. Conventionally a 70-m (229-ft) trigger wire is used for this purpose, which can accumulate a lot of energy if it jams and may cause injury if suddenly released. UniTong, however, has only 1 m (3 ft) of chain, so there is no energy accumulation.
The standard UniTong comes with two columns, one at either end. However, given that every drill floor has a different configuration, there is a need for flexibility and a one-column version also is available. Here the column is placed up to 3 m (10 ft) away from the rotary table so that it is well out of the way.
On receiving an enquiry, V-Tech normally will carry out a rig study to determine which version is appropriate. In the majority of cases, Halse adds, this will be the double-column version. The Veslefrikk delivery was a double-column unit, while the deliveries to Ocean Rig and Saipem all are single-column.
Judging by reports received fromLeiv Eiriksson, recently drilling for Shell west of the Shetlands, UniTong provides a wide operating window in floating applications. Casing operations have continued uninterrupted despite high winds and waves, reports Halse.
Weatherford completed its takeover of V-Tech in February, commenting that the acquisition would further strengthen its portfolio by adding V-Tech's key proprietary pipe-handling products to its tubular running services portfolio. V-Tech equipment will be marketed globally under the V-Tech name through Weatherford's rig mechanization systems. The company is now developing UniSlips, a multi-dimensional slip for all pipe diameters.