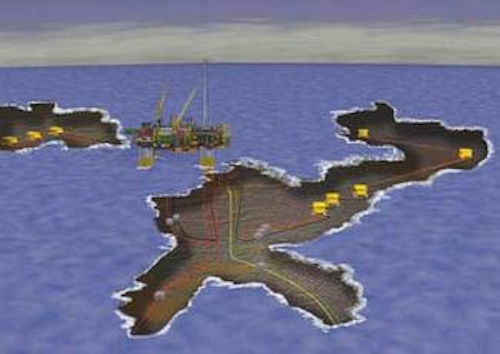 Nick Terde, Contributing Editor
In terms of reserves, StatoilHydro's Gjøa project is the company's largest new development on the Norwegian continental shelf. But it is noteworthy for other reasons. When the field comes on stream, scheduled for October 2010, it will open a hitherto undeveloped area with more reserves potential. The development also features a technology-stretching scheme combining power from shore with onboard power generation.
Gjøa was discovered in 1989 by exploration well 35/9-1R. The field was operated initially by Norsk Hydro, whose oil and gas division merged with Statoil last October. But back in 2003, Hydro sold its interest in Gjøa to Gaz de France, then a relative newcomer in the Norwegian offshore sector, and Statoil took over as operator.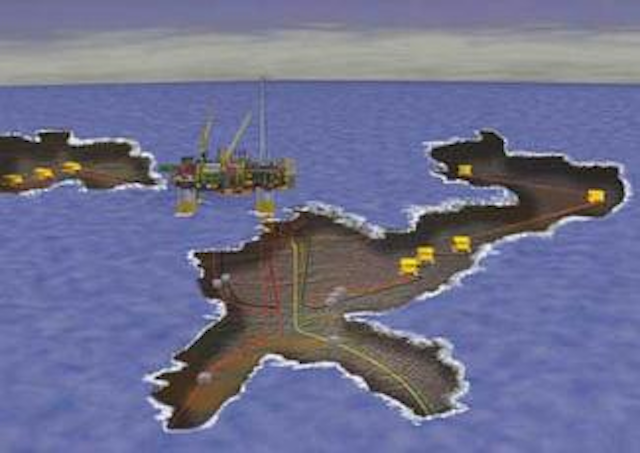 Subsea layout for Gjøa showing the templates tied back in series to the floating production unit. To the upper left are the three subsea templates on the satellite Vega field.
Click here to enlarge image
The partners in Gjøa production license PL 153 are StatoilHydro with 20%, GdF (30%), Petoro (30%), RWE-Dea (8%), and Shell (12%).
In 2004 Statoil and GdF came to an arrangement whereby Statoil would operate the development phase while GdF would assume operatorship for the production phase. According to StatoilHydro's project director Kjetel Digre, the French company is already closely involved in key parts of the project, contributing some 50 people out of a current project team of around 270.
GdF personnel have key positions in activities which will be their responsibility during the production phase, such as the subsurface organization, drilling and completions, and of course operations preparations.
Recovery issues
The Gjøa plan for development and operation (PDO), with an investment budget close to NOK30 billion in nominal terms (about $5.9 billion), was approved by the Norwegian parliament in June 2007. The reserves to be produced comprise an estimated 82 MMbbl (1.4 tcf) of oil and condensate, and 40 bcm of gas.
Finding an economic development solution was a lengthy exercise. The reserves are contained in seven main reservoir segments, not all of which have been drilled. While a healthy recovery factor of 70%+ is expected for the gas, it is little more than 20% for the oil, contained largely in thin zones of 35-40 m (115-131 ft).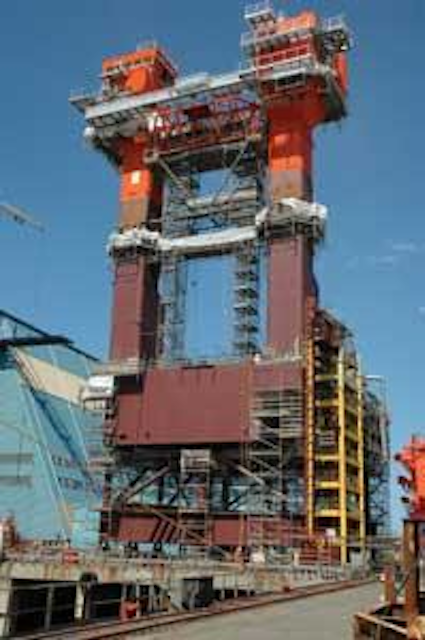 Cover photo: StatoilHydro's Volve field in the North Sea, onstream earlier this year, has been developed via a jackup production and drilling platform, supplied and installed by Maersk Contractors. Photo courtesy of Maersk/StatoilHydro.
Click here to enlarge image
The focus in the early years of production will be on maximizing oil production, says Digre. There will be a three-year ramp-up before gas production reaches a plateau. Natural depletion will be used as the drive mechanism.
Another challenge for development was the field's location in the Sogn area, which lies off the west coast of Norway about 60 km (37 mi) north of the Troll field and which is devoid of production infrastructure. The economics were aided by the decision to develop Hydro's nearby Vega field as a subsea tieback to Gjøa. Vega's licensees are contributing NOK1.9 billion ($372 million) out of their overall capex of NOK 7.9 billion ($1.547 billion) to the Gjøa investment budget to cover their share of costs.
Vega, which consists of three separate structures around 30 km (18.6 mi) to the west, will be tied back to Gjøa by a 32-km (20-mi), 14-in. (35.6-cm) pipeline; MEG will be supplied from the platform. Vega will provide a further 26 MMbbl of condensate and 18 bcm (636 bcf) of gas to be processed on the Gjøa platform. Following the merger, the Vega development has continued with its own separate project team, but co-operation between the two projects has been strong, Digre says.
The Gjøa production facility is a newbuild semisubmersible platform for which Aker Kværner has EPC responsibility. The 14,200-metric ton (15,652-ton) hull is under construction at the Samsung yard in Korea. It should be delivered to Aker Kværner's Stord yard in western Norway in July 2009, and will be mated with the topsides the following autumn.
The latter, incorporating a deck measuring 110 x 85 m (361 x 279 ft), will weigh 20,000 metric tons (22,046 tons). Accommodation for 100 personnel will be provided in a 1,500-metric ton (1,653-ton) aluminum quarters module also incorporating a helideck. This structure is under construction at Leirvik Module Technology's yard in western Norway. Production capacity will be 87,000 b/d (242 MMcf) of oil and 17 MMcm/d (600MMcf) of gas. Of this, 24,000 b/d and 7 MMcm/d capacity has been allocated to Vega.
Dual power approach
A novel hybrid solution was chosen for powering operations. The platform will have a single gas turbine, supplied by Dresser Rand, for running the gas export compressor. The turbine will be equipped with a waste heat recovery unit to meet the heat needs of the process facilities, giving it an overall efficiency in excess of 55%.
Power for the other functions will be supplied from shore, which will entail delivery of 40 MW of AC power at 90 kV over a distance of 98 km (61 mi). The combination of distance and power puts this solution at the limit for AC technology, and required a dedicated solution for the dynamic part of the cable – given Gjøa's water depth of 380 m (1,247 ft) – from the equipment supplier ABB Power Technologies.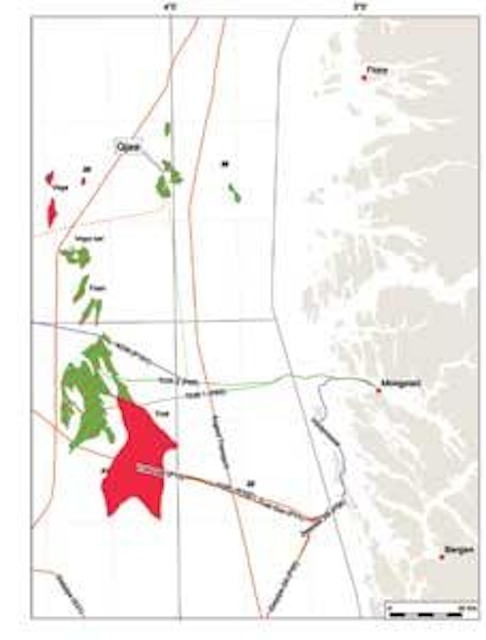 Gjøa lies some 60 km (37 mi) north of Troll. The Vega fields around 30 km (19 mi) to the west will be tied back to the Gjøa platform.
Click here to enlarge image
Had the power requirement been higher or the distance longer, DC transmission would have been called for. This would have brought additional costs for AC/DC conversion onshore and DC/AC conversion on the platform, rendering this solution uneconomic.
The combination of the high-efficiency gas export turbine and power from shore via an AC cable is the most environmentally friendly solution obtainable, says Digre. Power from shore will be supplied from a combined heating and power plant which StatoilHydro is building at the Mongstad refinery on the west coast, also the likely landfall for the cable.
Drilling by the semisubTransocean Searcher is due to start late this year. Unlike some of the gas/condensate fields StatoilHydro has developed in recent times, Gjøa presents moderate reservoir conditions, with pressure of 235 bar (23.5 MPa) and temperature of 82º C (180 º F). The nearest analogues in terms of drilling challenges and well solutions are the Troll and Fram fields, both south of Gjøa.
There will be a total of 13 subsea production wells, nine for oil and four for gas. Four will be dual laterals. The wells will be housed on four four-slot templates and a satellite structure which will be installed at drilling centers on Gjøa South, Gjøa East, and Gjøa North prior to the arrival of the rig.
Marine installation, including the templates, is the responsibility of Acergy Offshore.
The newbuild subsea construction vesselSkandi Acergy will install the templates this August. FMC Technologies will supply these and other subsea equipment items, including trees, wellheads, and controls.
The drilling centers will be tied back to the platform by 12-in (30.5-cm) flowlines; lift gas will be supplied to the oil producers through 6 in (15 cm) lines. In-field pipelay will be performed by Technip Offshore's reelshipApache in 2009, while Acergy will handle installation of the flexible risers and steel tube umbilicals, supplied respectively by NKT and Aker Kværner Subsea.
Next year the Saipem bargeCastoro 6 will lay the export pipelines. These will comprise a 60-km (37.3-mi), 15-in. (38-cm) line tied in subsea to the Troll C-Mongstad line, and a 130-km (81-mi), 28-in. (71-cm) gas pipeline tied into the Flags system in the UK sector south of Brent. Both lines will have a concrete coating by Bredero Shaw.
The gas will be delivered to Shell and ExxonMobil, the Flags owners, under a tie-in and processing agreement. Landing the gas at the Kårstø or Kollsnes terminals on Norway's west coast, which are operating at full capacity, would have entailed paying for capacity expansion.
One major contract remains to be awarded. This is for tie-in operations, including the fabrication of spool-pieces and tie-in modules, and is due to be let in May.
Integrated operations have been part of the operating philosophy for Gjøa since day one of the development, Digre says. This has involved measures such as including condition-monitoring requirements for the design contractor and vendor package specifications, building state-of-the-art collaboration rooms on- and offshore, and facilitating technical and operational data to key vendors in the operations phase for instant trouble-shooting.
Work is also under way on a program to write work process flows and build training programs based on IO principles, while IT applications are being designed and configured to support an effective operation based on integrated and parallel activities during production.
Gjøa's potential as a hub also has been catered for in the planning stage, Digre says. The platform has been designed with spare weight and space capacity for additional processing facilities, and there is space for a new riser tie-in. There are two discoveries in the Gjøa license which are potential tie-in candidates, as well as finds on neighboring licenses, including Agat, Peon, and Astero.