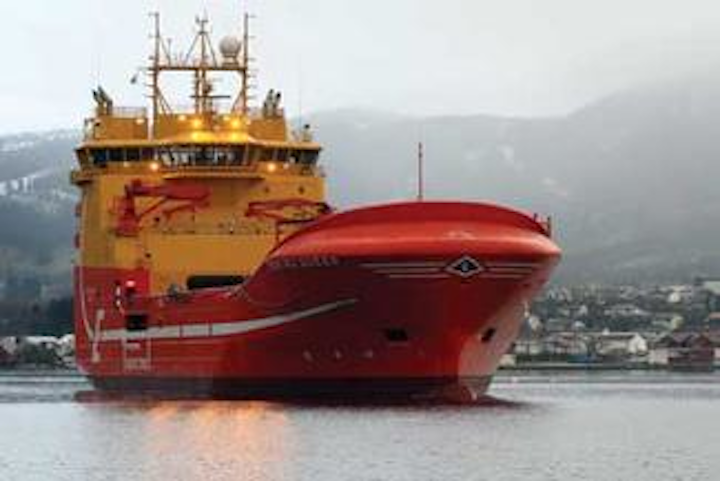 When Eidesvik takes delivery of the newbuild platform supply vessel (PSV)Viking Ladythis year, the Norwegian ship owner Eidesvik will have a fleet of three offshore vessels fueled by liquefied natural gas (LNG). The decision to expand the fleet was based on the sound experience the company has had with LNG as a propulsion fuel since 2003 with the PSV Viking Energy, says technical superintendent Lars Hovda.
Viking Lady is the second of two LNG ships ordered from the West Contractors yard in western Norway. The first, Viking Queen, was delivered early this year. The two newbuildings are of the VS493 Gass Avant design conceived by naval architects Vik Sandvik. Both comply with DNV's Clean Design class notation, and are intended to meet high environmental standards as well as providing a safe working environment.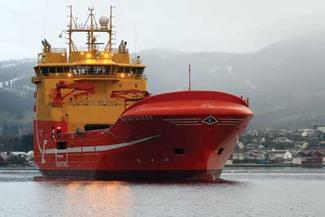 Eidesvik's newbuild platform supply vesselViking Queen is fueled by LNG and built to the Avant design.
Click here to enlarge image
Each vessel is 92 m (302 ft) long and 21 m (69 ft) wide, with a cargo deck area of 1,000 sq m (10,764 sq ft). The design ensures heave motions are substantially dampened in the accommodation areas. One eye-catching feature is that the superstructure is located aft.
LNG propulsion provides substantially improved environmental performance compared with diesel fuel vessels, according to Hovda. Eidesvik's experience indicates that on a yearly basis nitrogen oxide emissions have been reduced by around 89%, equivalent to 150-160 metric tons (165-176 tons) per ship, while carbon dioxide emissions are down by approximately 20%. The technology also brings savings on NOx emissions taxes, which Norway charges at a rate of NOK 15/kg ($2.90/2.2 lb).
The performance of the LNG ships also has been satisfactory with respect to function, reliability, and fuel economy, Hovda says. Close co-operation with customers has been key to bringing this new technology to the North Sea. The first two vessels have been chartered to Statoil (now StatoilHydro), and Total, which has taken the third ship on a long-term charter. Eidesvik is willing to consider building further LNG-fueled ships based on a similar co-operation basis with these or other customers, Hovda adds.