Ambitious independent seeking growth via the drillbit
Det norske oljeselskap, the product of last year's merger between Pertra and DNO's Norwegian assets, now has 45 licenses, a busy drilling schedule, and the rig capacity to drill a large number of operated wells.
Aug 1st, 2008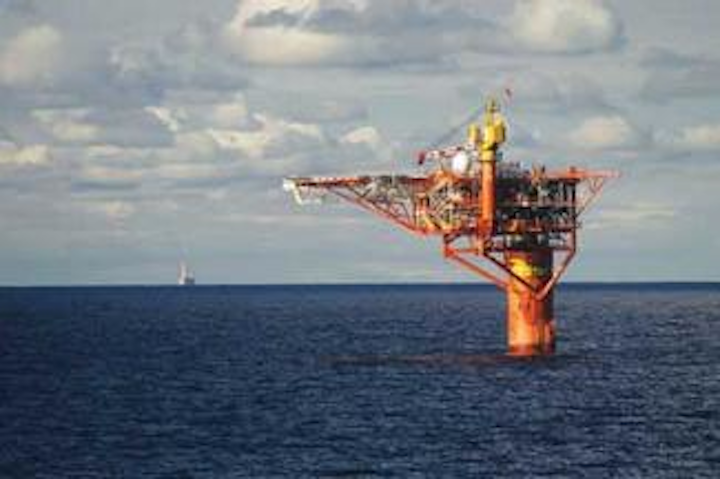 Det norske oljeselskap, the product of last year's merger between Pertra and DNO's Norwegian assets, now has 45 licenses, a busy drilling schedule, and the rig capacity to drill a large number of operated wells. It is the second largest Norwegian oil company, and, with 23 operatorships, the second-ranked operator on the Norwegian continental shelf.
Prior to the merger, which was completed formally last month, Pertra had several prospects ready to drill but lacked rig capacity. It was the main party to a three-year deal for the Odfjell semisubmersibleDeepsea Delta signed in 2007, but such is the demand for rigs that the contract does not come into effect until April 2009.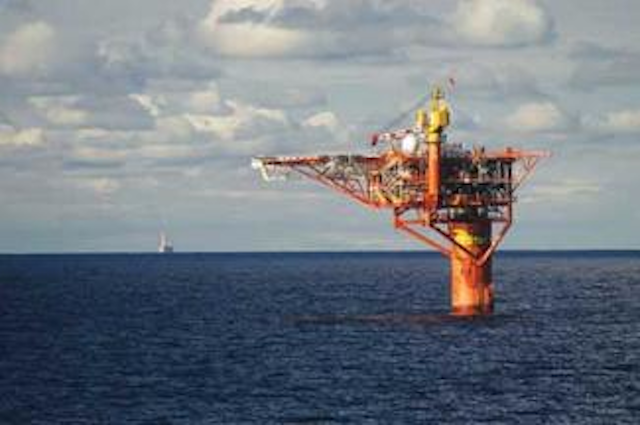 The wellhead platform on Varg, one of Det norske oljeselskap's four producing fields.
Click here to enlarge image
The merger with NOIL, the company holding DNO's Norwegian assets, brought immediate access to another semisub, theBredford Dolphin, via a rig-sharing agreement. Det norske also has secured several slots with Aker Drilling's newbuild semisub Aker Barents starting in 2009. It now seeks jackup capacity to cover its drilling needs in shallower waters.
Having drilled a couple of wells last year, the company aims to drill three operated wells this year and nine in 2009. "Unless you can drill a certain number of wells, just one or two a year will give you a volatile life," says managing director Erik Haugane.
Haugane and many of his colleagues at Pertra have a well developed knowledge of the geology of the NCS. The company was originally a spin-off from seismic contractor PGS. Of a staff now numbering 120, almost 50 are geology and geophysics specialists.
It was the geological expertise which paved the way for the company's first operated project, the redevelopment of Frøy in the Norwegian North Sea, which Elf produced for several years in the late 1990s before shutting it down in 2001 after a disappointing production experience.
Det norske has identified 49 MMbbl of recoverable oil in the field, which it plans to produce through a leased jackup platform with drilling and storage capability. It filed a plan for development and operation in March and awaits government approval.
North Sea potential
Meanwhile the exploration drive has notched several successes, with eight discoveries in the company's portfolio. Late last year, Det norske discovered oil at Storskrympten in the Varg block, 15/12. Reserves are thought to be 50 MMbbl, but an appraisal scheduled for next year will provide a better grip on volumes.
Another interesting discovery was made in April with the Draupne exploration well, 16/1-9. Reserves in Draupne and two earlier finds on the same license, West Cable and Hanz, are estimated at up to 90 MMbbl. Draupne is only 4 km (2.5 mi) from Lundin's Luno discovery, so a joint development is a possibility, Haugane says. An appraisal well is scheduled for next year.
Det norske is also a 30% partner in StatoilHydro's Ragnarrock find in 16/2. Here again, appraisal drilling is planned. Ragnarrock holds an estimated 1 Bbbl of oil in place, but in a difficult chalk reservoir, making development a challenge.
The company also has acreage in the Norwegian Sea, in mature areas close to Åsgard and in frontier areas such as PL 321 to the south which contains the Geitfjell prospect. It has four licenses in the Barents Sea, one operated, and through the NOIL inheritance, it is a 15% partner in the Goliat field, which Eni is preparing to develop for around NOK 25 billion ($4.93 billion). But Det norske believes it can find better uses for its money, and therefore has offered its stake for sale.
The company has a modest production base of around 2,000 b/d of oil from the Varg, Glitne, Enoch, and Jotun fields. This will increase next year, however, when Talisman's Yme redevelopment, in which it has a 10% stake, starts up, and again in 2012 when Frøy is due on stream.
Det norske has strong views on the future of Norway's far north. It fears that the emotional discussions on petroleum activities in the Lofoten and Vesterålen areas in the northern Norwegian Sea will impact activity closer to the Arctic Circle.
"We are surprised that the Norwegian Oil Industry Association, OLF, lobbies so strongly for the most disputed areas in the north of this area, allowing those who oppose petroleum activities in general to divert political attention from the more important northern Barents Sea," says communications manager Torgeir Anda.
Det norske feels the government's policy of encouraging smaller companies into the Norwegian sector has worked well so far. But if they are to progress to a production role, the fiscal advantages on offer at the exploration phase should be extended to the development phase.