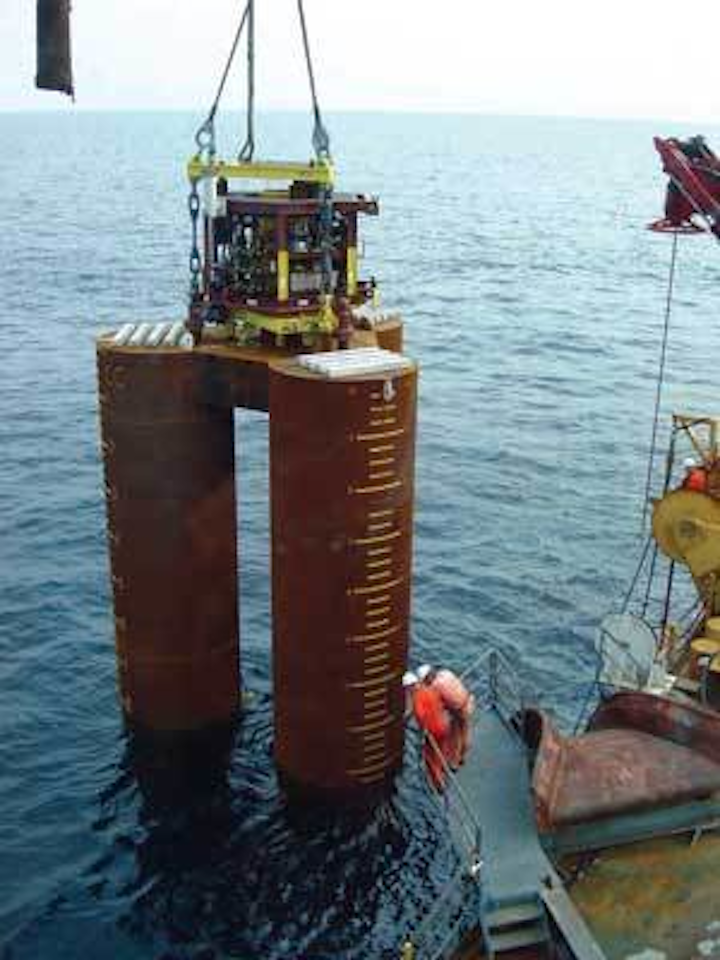 This April, Acergy Houston contracted SPT Offshore in Woerden to provide design, fabrication management, and installation support services for Chevron's Frade development offshore Brazil.
The installation program, scheduled for December, involves 22 suction piles which will be used to anchor flexible risers and flowlines on the seabed, in a water depth of around 1,100 m (3,608 ft). SPT intends to deploy its new ultra deepwater suction pump and lift tool SAPS-003 for this work.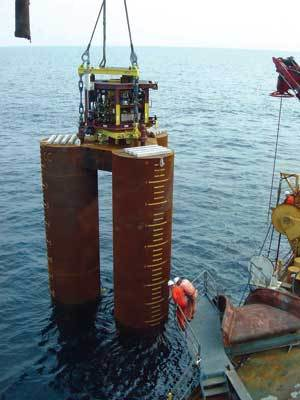 Suction pile cluster installation on the Ceiba field.
Click here to enlarge image
The suction pump/lift unit can be used to install both single and clustered piles to 3,000 m (9,842 ft) water depth. According to SPT, its major advantage over ROV zip pumps is that all instrumentation (echo-sounder, pressure differential, and inclinometers) and vent valves are incorporated into the unit.
Two large pumps, providing flow of up to 100 cu m/hr (3,531 cu ft/hr) at up to 8 bar (0.8 MPa), also are built in, providing full redundancy. Power is supplied via hot stabs using the ROV's hydraulic circuitry, so umbilicals are not required.
In July, SPT also signed another agreement for a project off Brazil with Petrobras, which involves performing tests using SPT's suction embedded anchor (SEA). The company has so far sold 86 of these anchors for shallow water moorings in Guyana.
The test campaign will be conducted in 600 m (1,968 ft) of water in the Marlim Sul area, using two SEAs and one suction follower. Petrobras will provide a standard anchor handling tug to install and test the anchors, and procedures have been formulated to allow safe retrieval of the suction follower back on deck without the need for an A-frame.
After penetration of the SEA to the planned depth, the follower will be retrieved by means of over-pressure. During this process, available loads in excess of the friction loads will be exploited to open the SEA's two half-anchor shells.
Also in July, SPT completed installation of a further three suction pile clusters for Hess' Ceiba field development off Equatorial Guinea. To date, SPT has designed, fabricated, and installed 25 cluster foundations from the client's vessel.
The suction pile cluster suits in particular subsea manifolds that require a tight placement verticality (1° or better). SPT says the use of smaller diameter tubulars makes the cluster pile relatively cheap to fabricate, and provides a high compression capacity.