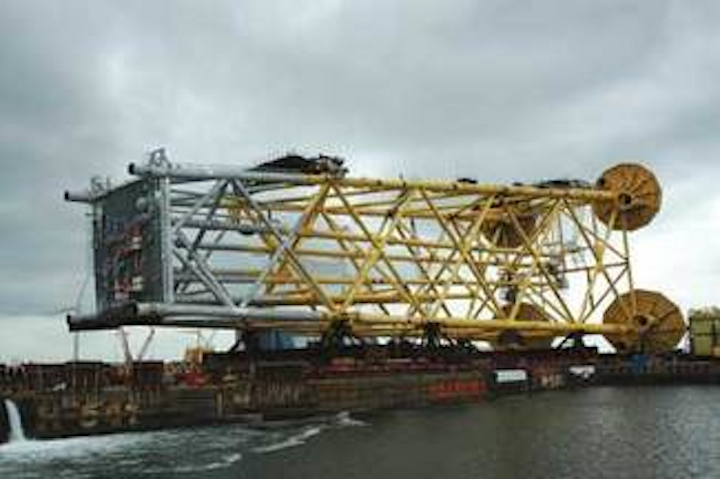 West Africa is back on the horizon for Heerema Fabrication Group (HFG), following its acquisition late last year of US-based Albert-Garaudy Consulting Engineers. This multi-discipline company has worked on numerous oil and gas projects in Nigeria, a target sector for HFG as it looks to diversify away from the North Sea.
"For us the main attractions of Albert-Garaudy were the opportunities to extend our access to other markets and to integrate their knowledge into our project management process," says Jan-Pieter Klaver, the group's CEO in the Netherlands.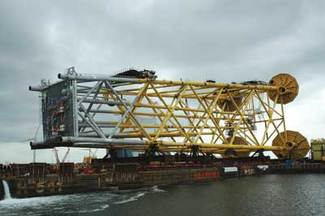 HFG in Vlissingen fabricated the jacket for ConocoPhillips' Britannia Satellites development.
Click here to enlarge image
In Europe, HFG is an established engineering, procurement, construction, and installation (EPCI) contractor. "We have a lot of experience in executing mid-size projects in the North Sea," Klaver says, "and some larger ones overseas, such as theKizomba A TLP.
"Historically, we have worked with third-party offices, but in cases where we were the main contractor, we were better able to drive the engineering program forward, keeping everything to schedule. Managing interfaces between the various service providers is one of our strengths.
The new acquisition, since renamed HFG Engineering, has two main branches, one in Houston and one in New Orleans. It was formed in the 1990s to provide drafting, design, and engineering services to the oil and gas industry, both upstream and downstream, and to other sectors such as shipping and power stations. Turnover in 2006 was close to $50 million. "Our main focus will remain the offshore industry," says Klaver, "but we will also stay in the non-mainstream markets where Albert-Garaudy had some involvement."
Albert-Garaudy also brings extensive experience in pipeline support engineering in West Africa and the Gulf of Mexico.
HFG Engineering will work with the group's three fabrication yards in Europe to provide design, engineering, and construction services for offshore field developments. These could range from small platform maintenance and retrofit jobs to full EPIC capability for the largest projects, including fixed shallow water platforms, drilling facilities, and all types of deepwater floating installations.
Construction focus
In Europe, HFG maintains platform construction yards in Zwijndrecht and Vlissingen in the southern Netherlands, and in Hartlepool, northeast England.
"Our strengths in fabrication are our facilities, and our ability to build mid- and large-size installations indoors in covered halls. This gives us greater control over the project schedule and more efficient execution methods - I can't remember us being late with deliveries."
On average, the three yards retain a collective workforce of 800 people. Numbers can go up and down, but in the Netherlands, specialist personnel can be switched between the two facilities, depending on their respective levels of activity.
Currently, Zwijndrecht is working on one of Norway's largest brownfield projects, the redevelopment of the Valhall complex in the North Sea. Operator BP Norge is replacing the field's two existing platforms with a new combined process and living quarters facility. In March, HFG won the fabrication and integration contract for the 11,000-metric-ton (12,125-ton) topside deck and the 350-metric-ton (386-ton) flare boom, with an option to also assemble the 500-metric-ton (551-ton) solids handling module. All work is due to be completed in Oct. 2009.
The construction site at Zwjndrecht covers 146,000 sq m (36 acres), with a 680-m (2,231- ft) quayside accommodating load-outs of up to 15,000 tons (13,608 metric tons). There are two covered assembly halls, with overhead crane lifting capacity of up to 300 metric tons (330 tons).
Zwijndrecht specializes in pancake deck construction ranging from small to mid-size and large platforms, recent examples being the Cavendish and De Ruyter installations in the southern North Sea. Earlier this summer, it loaded out the 870-metric-ton (959-ton) topside deck for GDF Netherlands' G14-B gas project; Vlissingen completed the 800 metric ton (882 ton) jacket in April. Both yards also collaborated on Chevron's new A12 Shallow Gas project (see report earlier in this issue).
Automated profiling machines are among the new investments at Zwijndrecht. Vlissingen has undergone a more major overhaul in recent years, including renovation of the 720-m (2,362-ft) quayside, new access storage areas, and upgrading of the crane facilities, with a brand new 600-metric-ton (661-ton) lift crane added in June 2005. Management at Zwijndrecht also set up a training school on site.
In July, Vlissingen shipped out a 280-metric-ton (309-ton) process module for GDF's K12-BP platform, while the Hartlepool site was putting the finishing touches to a 2,000-metric-ton (2,205-ton) compression module for Shell's Sean gas complex in the UK southern North Sea. These two yards collaborated recently to fabricate ConocoPhillips's Brodgar/Callanish satellite platform in the central North Sea, which has yet to come onstream.
After K12-BP, Vlissingen is focusing on two projects for clients in Africa. One is an EPCI wellhead platform for BG's Hasdrubal development off Tunisia, due to be installed in June 2008, with a jacket weight of 1,000 metric tons (1,102 tons) and a deck structure of 1,200 metric tons (1,323 tons). Vlissingen also is near completion of a template and piles for Chevron's Tombua Landana project, due for delivery in October, with a total structural steel weight of 13,000 metric tons (14,333 tons). Hartlepool currently is bidding for new projects.