High performance polyethylene fiber from DSM Dyneema could ease the strains on deep-sea equipment installations. Rope samples from Dyneema fiber have performed strongly in various subsea structure deployment studies.
TMT Technologies in Huntington Beach, California, conducted one set of tests. The 80-mm (3.15-in.) diameter Dyneema fiber rope sample, with a break strength of around 450 tons (408 metric tons), was of the same size employed by recent joint industry projects for cyclic bend-over sheave tests. One main aim of these programs is to develop safe and reliable techniques for lowering structures such as templates, weighing up to 250 tons (227 metric tons), into ultra-deepwater from a conventional construction vessel.

Computer-generated image of a sample rope incorporating Dyneema fiber.
Click here to enlarge image
The braided rope sample for the TMT tests also contained quantities of Omnibend fiber from W.L.Gore and Associates, and weighed less than 15% of an equivalent steel wire.
TMT devised a test rig for the sample rope and an equal buddy rope, both of which were bended over two 2.4-m (7.88-ft) diameter sheaves. The results showed the sample incorporating Dyneema fiber sample could withstand more than 100,000 single bends, twice the number sustained by the steel wire.
According to DSM, this suggests that many deepwater lowering operations that involve running a steel wire rope over a sheave or winch could be better served by rope incorporating Dyneema. The fiber's lighter weight, combined with its bending performance, give vessel designers scope to save deck space by downsizing sheaves and winches.
One example is the hydraulic winch system under construction for Shell's Perdido development in the Gulf of Mexico. To accommodate the spar platform moored in 8,000 ft (2,438 m) of water, rope manufacturer Samson of Ferndale, Washington, is supplying its patented synthetic rope, Quantum-12. The 2½-in. (63.5-mm) diameter rope will be installed on the winch system in a continuous 9,200 ft (2,804 m) length, and will be used to lower subsea hardware to the seafloor from the spar.
Quantum-12 is a 12-strand rope design employing Samson's DPX fiber technology, which combines Dyneema SK75 with a spun polyester overlay. This construction enhances the coefficient of friction and heat resistance, DSM says, while maintaining the cut and abrasion resistance of Dyneema SK75. The rope's strength and low weight also allow a more compact footprint for the winch system – supplied by Houston-based Logan Winch – to reduce deck load requirements.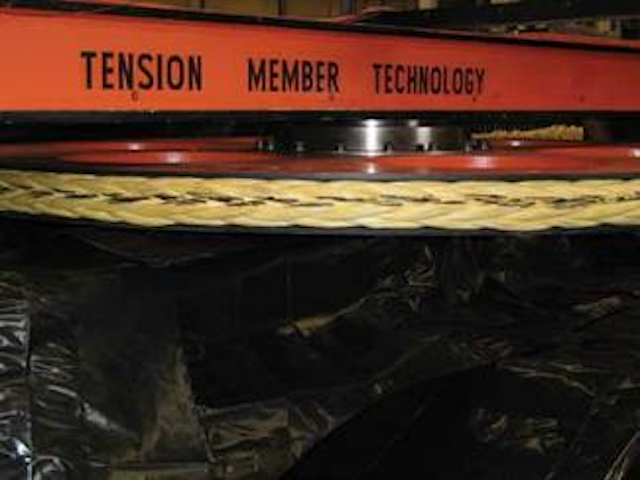 Bend-test rig created by TMT Technologies.
Click here to enlarge image
Dyneema fiber is produced by a high molecular weight polyethylene gel-spun process. Stretching the fiber triggers molecular alignment and an intense level of crystallinity. The fiber's low density (less than one) is the basis for its light weight and strength. Its low friction properties protect it from internal abrasion, resulting in long service life results in rope tensile and bending fatigue tests.
The Urmond-based company, also with offices in Stanley, North Carolina, and Shanghai, is conducting further studies on ultra deepwater structure deployments with various subsea contractors and oil companies. "One of their concerns," says a company spokesman, "is that large diameter steel wire is not achieving its predicted life in bending conditions. Also, the weight involved limits the applicability of the wire.
"As for fiber ropes, they are chiefly interested in weight reduction and good bending performance. Current areas under further investigation are winching performance, discard criteria, and potential heating up of the ropes when used in active heave compensation modes."
DSM has several R&D programs addressing some of these and other issues. "We see room for two possible improvements for installation systems," says the spokesman. "One is during the operational phase: when replacing wire with fiber rope, the effective capacity of a deployment system rises drastically. Under this condition, fatigue resistance is not a determining factor, as the weight gains with fiber rope outweigh everything else.
"In the engineering phase, improving the fatigue resistance of a fiber rope allows for smaller sheave size, and thereby affords another opportunity to reduce the footprint of the installation equipment."
Recently, a French contractor working in deepwater offshore West Africa successfully applied a 750-m (2,461-ft) long, 1,250-ton (1,134-metric ton) break strength rope with Dyneema fiber as an extension of a winch system employing steel wire. "They needed a pennant to reach to the sea bottom with the existing winch," the spokesman explains, "but could not handle the additional weight involved with wire. Between deployments the (neutrally buoyant) pennant could be wet stored vertically on the seabed with only a small 4-metric ton (4.41-ton) buoy at its top."