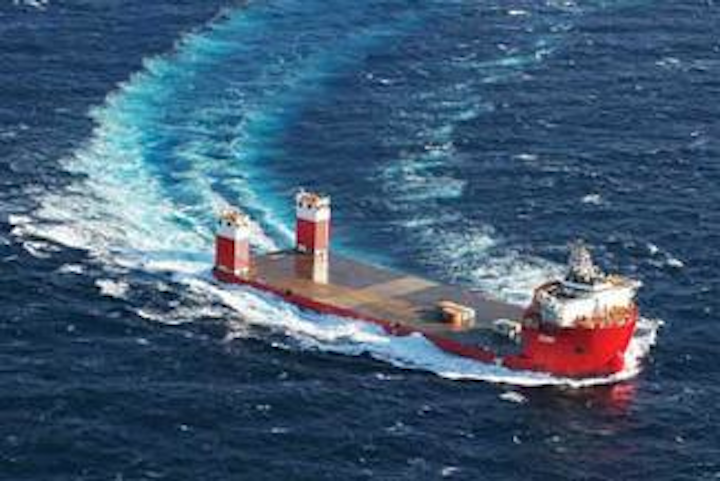 In June, theFairstar Fjord completed its first offshore assignment as a converted, self-propelled heavy transport vessel. The job involved transferring the icebreaker Ice Maiden from Pascagoula, Mississippi, to the A&P Tyne yard in northeast England.
A sister vessel, theFairstar Fjell, is nearing the end of its conversion and should be ready for sea trials early 2009. Both vessels formerly were unused semisubmersible barges, built in 2000, which Rotterdam-based Fairstar Heavy Transport acquired for $45 million from Norwegian contractor Boa in 2005.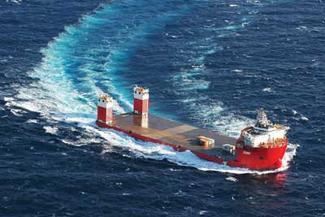 TheFairstar Fjord in transit.
Click here to enlarge image
Fairstar commissioned Fairmount Marine, also in Rotterdam, to manage the conversion program in 2006, but theFjordwork took much longer than expected. There were various reasons, according to Fairstar's Mario Kerssens. "Admittedly," he says, "this was the first-ever conversion of a semisubmersible barge in this fashion. But the designated yard, Malta Shipyards, is a specialist in ship repairs, not newbuildings, and the basic engineering was still being performed as first steel was cut."
After theFjord was completed late last year, well behind schedule, Fairstar canceled Fairmount's contract for the Fjell and took on responsibility for the conversion itself. Malta Shipyards was retained for this program.
"We have a very good EPC contract," Kerssens explains, "which was very well negotiated at a very favorable price. If well managed, the contract provides a good basis for the conversions."
Both vessels are being targeted at three main sectors of oil and gas activity:
1. Drilling. Fairstar has identified over 60 rigs on order, of which around 80% are under construction at Asian yards such as Jurong, Keppel Fels, and PPL, and therefore will require ocean transportation to their working destination. TheFjord and Fjell are designed to handle most new jackups and over 80% of semisubmersibles, except the largest units or others with novel geometric shapes not suited to dry transportation
2. Long-distance transport of topsides modules for integration with FPSO hulls in the Far East — typically from yards in Brazil, Angola, and Nigeria, where local fabrication content for projects is increasingly important
3. Delivering modules weighing around 2,000 tons (1,814 metric tons) to LNG and GTL plants in areas such as Australia and West Africa.
"Our vessels have several big advantages over the converted tankers or bulk carriers," says Kerssens. "First, we provide a totally unobstructed stern, unlike converted tankers which cannot roll on/roll off cargoes from the rear. Second, our vessels can berth at any shipyard, whereas others cannot as their hulls are too big. Third, we can have a huge amount of water above the deck, which means we can carry semisubs with their thrusters sticking out or jackups with large spud cans protruding. Only two other existing vessels can do that."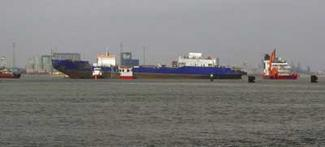 TheFairstar Fjord with the Ice Maiden on board.
Click here to enlarge image
Being self-propelled, Fairstar's vessels can achieve a dry transport speed of 13 knots and a dry tow speed of 4 knots. In case of engine failure, both vessels also provide full redundancy in the form of three main engines and steerable thrusters, all supplied by Wartsila.
Generators power the hydraulic system for the ballast pumps and electrical equipment during submerging operations.
"Ballast control is provided by two rows of tanks and seven pumps," says Kerssens. "The ballast control panel also overlooks the deck, which is handy because the operator can see the ship move as he presses the buttons.
"The pumps work with gravity as well as pressure, so they can serve the tanks in various ways. This is very sophisticated compared with converted tankers, which despite their newly built heavy-lift midship sections, the ballast tank arrangements can make ballasting and de-ballasting quite time-consuming. They cannot empty their tanks so delicately. We think we can adjust our operation better."
Early in February, theFjord underwent three days of tests in Malta on all aspects of its ballast system. These culminated in a complete submersion of the hull to a depth of 20 m (65.6 ft) below the water line, leaving around 11 m (36 ft) of water above the main deck, at an even keel. "We also found we could achieve 12 m (39 ft) of water at the stern, at a slight angle. This demonstrated that we could float onto the deck semisubs with their thrusters attached."
Sea of Solutions performed basic design of both ships, while Babcock and Vuyk Engineering (now part of the IHC group) provided detailed design. TheFjord was lengthened by 12 m (39 ft) to give a better width/length ratio, Kerssens explains. Its main dimensions include an overall length of 159.24 m (522 ft), breadth of 45.5 m (149 ft), molded depth of 9 m (29.5 ft), and deadweight of 24,500 metric tons (27,006 tons). It provides a free deck space of 131.8 x 45.5 m (432 x 149 ft), and a deck load capacity of 25 metric tons (27.56 tons)/sq m (10.7 sq ft).
TheFjord can transport structures weighing up to 24,000 metric tons (26,455 tons), while the Fjell — being slightly smaller — has a maximum weight limit of 19,800 metric tons (21,825 tons). Fairstar expects the conversion process for the Fjell to be smoother, after the lessons learned from the previous program. The work has been entrusted to a less unionized part of Malta Shipyards.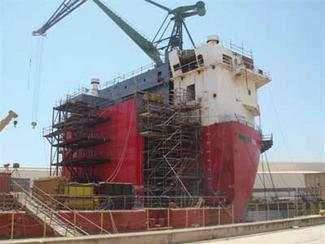 TheFjell under construction at Malta Shipyards.
Click here to enlarge image
C&M Group in Aberdeen awarded the contract for transportation of theIce Maiden, which was brought to the UK for conversion into an Arctic DP-3 monohull flotel. "We thought we had a challenging conversion with the Fjord, but they had started this conversion in May 2006. The yard in Alabama had basically demolished the ship, but progress had been so slow that C&M decided it had to be moved to A&P Tyne.
"Before us, they had looked at theMighty Servant, which had discharged the Shenzi TLP to the Gulf of Mexico. Negotiations were advanced, apparently, but Dockwise could not wait for the vessel to sail across the Atlantic. Other new transportation vessels also were facing delays. For this job we prepared loading manuals on the likely motions of the ship, wave and acceleration impact and so on — all standard procedures."
Later this year, theFjord will transport a 150-m (492-ft) long, 40-m (131-ft) wide floating drydock weighing 10,000 metric tons (11,023 tons) from Newcastle, UK, to Bharati Shipyards in India. Its next offshore work will involve collecting the 8,000-metric ton (8,818-ton) module support frame and center module for Chevron's Tombua Landana compliant tower project from DSME in Korea. The vessel should start its 37-day transit to Angola early in October. There, Heerema's Thialf will lift the structure for installation onto the jacket, supplied by Gulf Marine Fabricators.
In April and November 2009, theFjell, and later also the Fjord, will sail to Lobito in Angola to transport locally made riser and mooring steel protection structures and boat landings for integration into Total's Pazflor FPSO, also under construction at DSME. The following year, both vessels are scheduled to transport the jacket, topsides, flare boom and bridges for Maersk's Halfdan HBD platform in the Danish North Sea from the SembCorp yard in Singapore, under subcontract to Heerema.
As for future newbuild rig jobs, Kerssens says, "one of our ideas is to have our ship at the yard for about a week in advance of the rig's readiness, saving the customer huge costs in rig transit times and non-productive rig-days. Some rigs are being delayed, although the yards in Singapore are quite capable of delivering on time. But oil companies are putting pressure on yards and contractors to get their rigs delivered earlier in order to meet license commitments and to produce oil soonest at the most favorable rates."