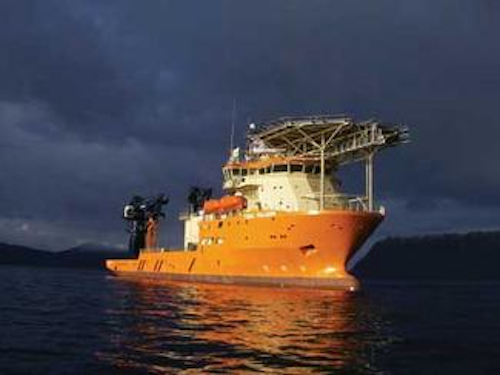 Diving/subsea services group Bluestream is set to unveil its second diving support vessel. The newly builtToisa Paladin recently arrived in Amsterdam following sailaway from the Kleven shipyard in Norway.
Once in port, final preparations include commissioning and hook-up of the diving bell and installation of a purpose-built mezzanine deck, pre-fabricated at the Oranje yard in Amsterdam, to support the air diving spreads and two ROVs. Following short sea trials, Bluestream expects to have the vessel ready for duty by mid-August.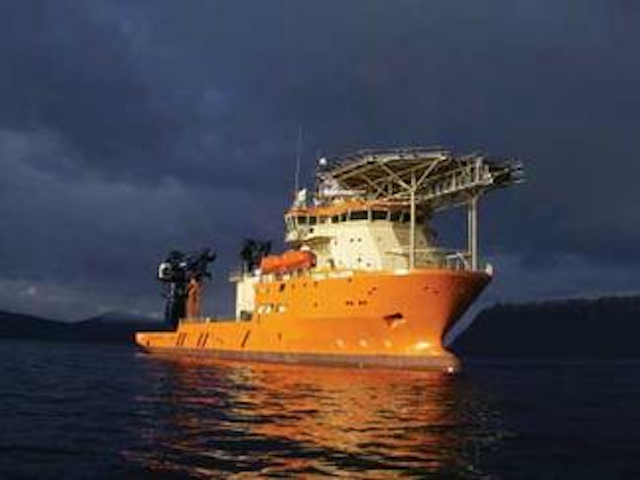 TheToisa Paladin should start its first assignment shortly in the North Sea.
Click here to enlarge image
The company, based in Den Helder, has taken the DP-2 saturation/air diving vessel on a five-year charter from Bermuda-based shipping group Toisa, which also will operate it under the Sealion Shipping flag. "We selected Toisa based on their experience running four other heavy duty saturation diving vessels," says Bluestream's CEO Kieran Pieters.
Toisa Paladin is based on a lengthened version of the established MT 6016 design which has been ordered by Norwegian vessel owners such as DOF, REM, and SIEM. With an overall length of 103.7 m (340 ft), a beam of 19.7 m (64.6 ft), and an operating draft of 6.2 m (20.3 ft), it is larger than Bluestream's existing DSV, Northern River. Although its main work deck is a little smaller, at around 900 sq m (9,688 sq ft), the mezzanine deck provides a further 180 sq m (1,938 sq ft).
The new vessel can accommodate up to 100 persons, and its 18-man saturation diving system can operate in water depths up to 300 m (984 ft). Its diesel electric propulsion system is driven by four Caterpillar 3516 TA diesel generators providing total output of 8.4 MW, with two 2.2 MW Rolls-Royce azipull thrusters, two 1.05 MW tunnel thrusters at the bow, and an 880 kW retractable azimuth thruster.
Other features include a helideck suitable for latest-generation Euro/Sikorsky helicopters, and on the main deck a 140-metric ton (154-ton) active heave-compensated crane which could be used for subsea equipment installations, possibly in support of larger construction vessels.
Bluestream expectsToisa Paladin to work mainly in the central North Sea, although its transit speed (15.5 knots) means it can operate worldwide - assuming clients pay the mobilization costs. "This is something of an issue currently in our sector," says Pieters.
The vessel's first contract should be for Mobil North Sea LLC. "We have done numerous paper presentations," says Pieters, "and a lot of operators are excited. Most have been careful not to commit too soon, based on previous experiences with long overruns delaying contracted tonnage. However, this vessel's big attraction is that it is fully certified to intensive new DNV requirements concerning design, construction, and maintenance of a saturation diving system – not many other DSVs comply with these standards."
Northern River, built in 1998 and owned by US shipping company Trico, is contracted through to May 2012. The 93-m (305-ft) long, DP-2 class air diving vessel can accommodate a crew of 60 and has a spread designed for simultaneous diving off the vessel's port and starboard sides. Recently, Bluestream added a second crane to the 1,000 sq m (10,764 sq ft) deck, while Trico installed a new moon pool and upgraded the accommodation and office areas.
The vessel spent much of 2007 on duty in the Dutch and southern UK sectors of the North Sea, aside from one major assignment for ExxonMobil's Sable diving project off Nova Scotia. This involved work at the Thebaud platform in 36 m (118 ft) of water.
Early this year,Northern River was in the Dutch sector supporting preparations for a new gas pipeline near Total's L4-PN platform, the program including installation of spools and placement of mattresses over a section of the line. More recently, Maersk took the vessel for a 75-day campaign of diving for inspection, repair, and maintenance on various Danish North Sea fields. Bluestream has a separate contract with Maersk to provide ROV services, and also is supplying rope access climbing specialists.
With no let-up in sight for field development activity, Bluestream is considering expanding its fleet with two moreNorthern River-type DSVs, and another Toisa Paladin-type combination vessel. "We may also step away to dedicated ROV support vessels," says Pieters, "although we have learned from our experiences with the Northern River that being flexible is critical for a company our size."
Bluestream's 11-strong pool of ROVs includes two Comanche work class vehicles supplied by Sub-Atlantic. One of these worked recently onboard the new DSVVOS Satisfaction offshore Libya for DeepOcean. Bluestream equipped the vehicle with specially adapted manipulators and hydraulic tools to allow it to mount a temporary clamp on an 8-in. (20.3-cm) pipeline undergoing repairs in 200 m (656 ft) of water. Elsewhere, two of the company's ROVs are based permanently on the Seaway Heavy Lifting construction vessel Stanislav Yudin, at present on assignment offshore Dubai.
Bluestream also has been working with an ROV pilot training institute in the UK to address problems pilots face operating eyeball ROVs. "The industry is not inclined to spend as much on training for these vehicles as they are for big work class ROVs," says Pieters. The project involves developing simulators for fault diagnosis. "We may be the first to have accomplished this," he claims. "Other simulators focus solely on flying." The first facility should by now be in place and operational at the institute. Bluestream will later add a second to train its own pilots in-house.