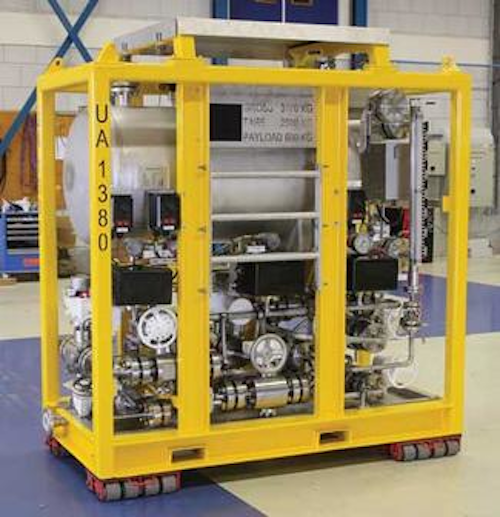 Dutch North Sea operators are struggling to manage paperwork at reasonable cost. Under Dutch mining laws they must maintain "as-built" drawings of their platforms, including all structural or equipment changes.
Some of the older installations are undergoing substantial modifications, but in many cases the original drawings are not in an electronic format. The process of keeping drawings up to date is time-consuming, and there is a lack of manpower in-house to document and digitize these changes. Outsourcing this task is no easier, with most engineering consultants in the Netherlands either fully booked or charging high rates to do the work.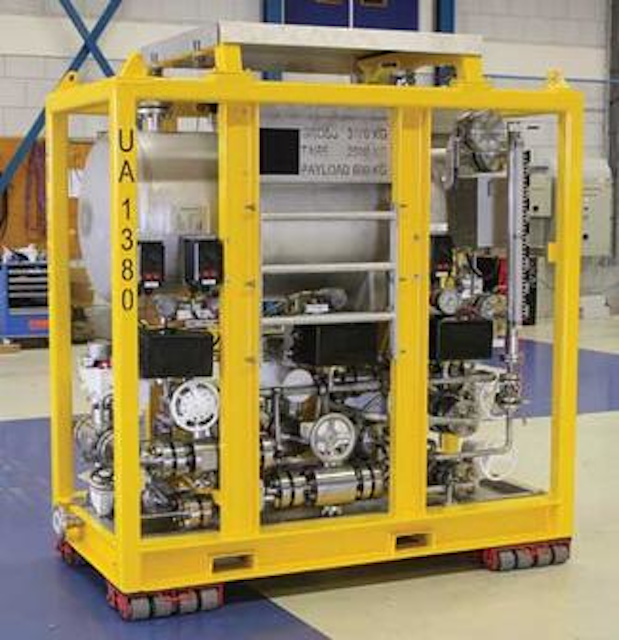 Chemical injection skid supplied recently by NMA Process Systems to Total.
Click here to enlarge image
One exception is NMA Engineering, which has established a specialist digitization business staffed by 15 engineers at headquarters in the Alkmaar area, and a 50-strong engineering/data processing team in Bandung, Indonesia. The aim, according to NMA's Jaap Korf, is to provide "a low cost, high quality engineering service." Current clients include Total Nederland and Wintershall Noordzee.
Parent company NMA Industries had been active in Indonesia for 100 years when it decided to start this operation in 2003. Although Jakarta is the focus of corporate oil and gas activity, NMA found many skilled computing professionals in Java. This led to the decision to locate the offices in Bandung.
The relationship with Total started in late 2005, and has developed into a €5 million, five-year contract covering the needs of its Dutch sector platforms.
"In the Netherlands we have several engineers trained and authorized to travel to their installations by helicopter," Korf explains. "They will spend many days on a platform, checking the original P&IDs for process, mechanical, electrical equipment isometrics and so on, noting any deviations and then modifying the drawings by hand while at sea. After the documents are scanned into a computer at the head office, they are sent electronically through a secured server to Bandung for correction and conversion into a digitized format.
"The new versions are first checked in Bandung and then sent back here for a second quality and accuracy check before delivery to the client. This is how we achieve a near 100% quality level. Sometimes customers may indicate additional items they want changed. We can do this easily at low cost by manipulating the information stored in our database."
Previously, Korf adds, "the customer would have had to take the drawings by hand to a platform, and it could then take anything up to four months to enter changes into their own hard-copy database. Also, it was difficult to provide assurance that the latest revisions were being used. With the electronic method, all staff on all installations can access the same central database, so anyone can look at the latest revision of the drawings when they need to."
Recently, NMA signed an agreement with Wintershall to digitize drawings on two of its North Sea platforms on a one-off basis. It is also in the process of explaining its capabilities to other Dutch sector operators. "We can easily double our computing capacity in Indonesia to take on more business," says Korf, "and this service can easily be extended to any engineering activity that needs updates and/or digitization."
Other oilfield activities
Late last year, NMA also established an oil & gas division in Broek op Langedijk. Korf is president. It combines activities of three of the group's companies:
Task Environmental Services, a specialist in drilling fluids solids control equipment rented to contractors such as MI-Swaco and Halliburton. "We make our own mud coolers and integrate them with explosion-proof packages for use in onshore and offshore rigs," Korf explains
NMA Process Systems assembles skid-based systems for chemical injection, water filtration, separation of water from gas, solids from gas, gas from liquids, and solids from liquids
Eprofs Engineering provides instrumentation and electrical equipment for integration into process installations. One of its specialties is offshore power quality management. "On North Sea platforms," says Korf, "operators are increasing electrical loads on their generating systems as they add all sorts of equipment to extend field life. But distortions can arise if they do not take sufficient care of their power quality, leading to partial malfunction of the power network. We can measure and correct the distortion, by putting in filters and/or rectifiers, saving the operator the cost of upgrading to larger generators."
NMA Oil & Gas has formed co-operations with other equipment suppliers. For instance, it integrates Westfalia centrifuges, crude and lube handling equipment with piping and electrical systems into skids for installation on FPSOs. Current projects include Pazflor off Angola and a crude oil system for power generation offshore Congo. Additionally, it integrates Westfalia decanters into drilling fluid treatment packages for use on drilling rigs.
The division is also incorporating hydrocyclones manufactured by Australian company eProcess into skids for installation on North Sea platforms. Typically these are used to separate water produced with hydrocarbons in older wells on mature fields. In many cases they are replacing older equipment that cannot cope with changing production profiles.