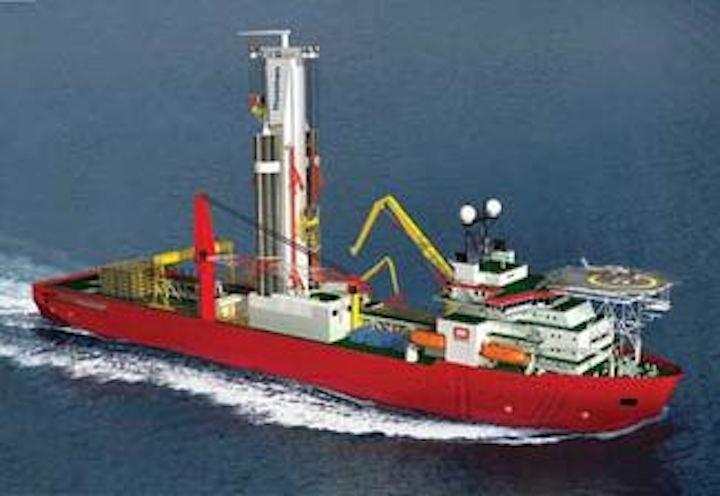 J Mattijs Faber, IHC Merwede, Annemarie van Weerden - Huisman-Itrec
Offshore design and construction companies IHC Merwede and Huisman have expanded their cooperation in pipelay solutions – the latest products being Subsea 7'sSeven Oceans and Seven Seas – towards new generation drilling vessels.
The design for their first such joint project is progressing, and combines both companies' best practices with the latest drilling technologies and advanced engineering to comply with the most up-to-date drilling standards.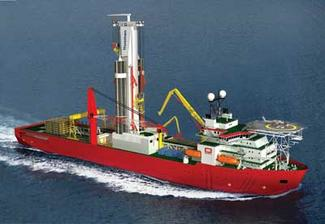 Artist's impression of the vessel.
Click here to enlarge image
The concept vessel is a monohull suitable for both marine drilling riser and pressure riser drilling operations in water depths of up to 10,000 ft (3,048 m). It will offer economical, technical, safety, and efficiency advantages and is designed for exploration and development drilling worldwide, including ice-prone waters. The vessel's compact size will allow it to pass through the Panama and Suez canals, making transit between regions more efficient.
IHC Merwede is responsible for the design, construction, and commissioning of the vessel, while Huisman is responsible for the design, construction, and commissioning of drilling equipment, including control systems and cranes.
Although the new vessel is significantly smaller than existing drilling vessel designs, its capabilities are either comparable or superior to those designs. Its compact size will have a beneficial impact on, for example, steel weight, installed power, wind surface, DP performance, operability, maintenance, and crew comfort.
To this end, the drilling equipment has been integrated into the ship's hull as much as possible. This means that drilling pipe, risers, riser tensioners, silos, and mud tanks will be located below the main working deck.
Another key feature compared to conventional drilling vessels is the absence of a substructure, resulting in a lower drill floor and a lower center of gravity. Besides providing a stable working platform, this also frees a lot of deck space.
The low center of gravity, optimized hull shape, and advanced stabilization system combine to provide sea-keeping capabilities beyond those of larger drilling vessels.
The vessel will be equipped with a Huisman drilling equipment set suitable for drilling and field construction activities, including a box-type drilling mast with a 2,400 kips hook load capacity and offline stand building capability. The box structure provides both the main load-carrying element and an enclosed environment for all equipment.
Two pipe setbacks next to the mast will be able to store 135 ft (41 m) stands, with tubulars transported vertically from the setback to the drilling center by four pipe rackers positioned around the mast. Two pipe feeders located between the mast and the aft deck will convey tubulars from a horizontal position on the pipe deck to a vertical position in the drilling or construction center. A service crane can be mounted on top of the tower, providing access to both sides of the drill floor and eliminating the need for man-riding operations on tugger winches.
During drilling operations, the vessel will be kept on station by a DP-3 compliant dynamic positioning system. This system controls three azimuth thrusters in the aft of the ship and three retractable azimuth thrusters forward. All azimuth thrusters will be driven by large frequency-controlled electric motors powered by eight high-voltage diesel electric generator sets. To provide the highest standard of redundancy, the eight generator sets are spread across four completely separated engine rooms.
The vessel will be suitable for conventional drilling operations, coiled tubing tasks, and the installation of subsea trees in water depths up to 3,000 m, or around 10,000 ft. Total drilling depth capacity will be in excess of 12,190 m (around 40,000 ft) measured from sea level.
To provide service at these depths and to monitor the drilling process, the vessel will incorporate two cursor-launched work-class ROVs, both housed in a hangar that is fully integrated into the vessel's superstructure. The high standard accommodation can house 180 crew members.
Integration, installation, and interfacing of all equipment onboard are shared between IHC Merwede and Huisman. The fully integrated vessel will offer benefits in terms of maintenance, service, operational capability, and quality, resulting in low operational costs and high vessel operability. The layout and ergonomics of all equipment is optimized for ease of operating and safety.
The Huisman and IHC Merwede approach also offers advantages for the overall project, in terms of better management of the financial and technical risks. As proven with their other joint offshore projects, they guarantee to deliver the vessel on time, within budget, with a short building period and with 100% capacity from day one.