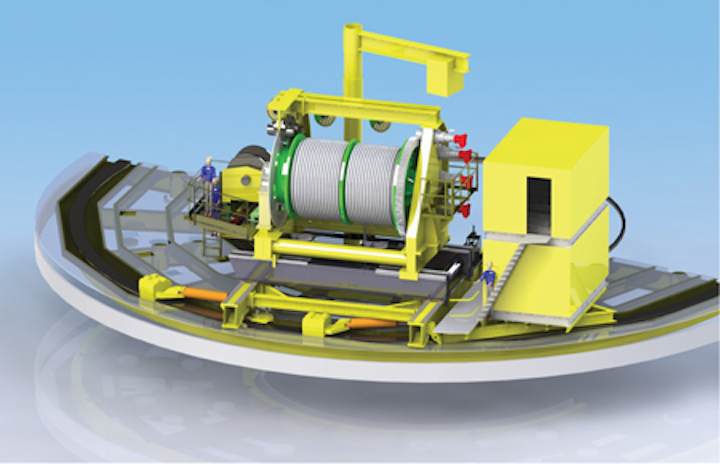 Harsh environment calls for a system designed with 100% reliability/availability
Lyon-based NFM Technologies has delivered theGlen Lyon FPSO turret installation winch to SBM Offshore for BP's Quad 204 redevelopment project west of Shetland. The equipment was installed on the vessel at Hyundai Heavy Industries yard in Ulsan, South Korea, at the end of last year.
BP commissioned the new vessel in place of the existing FPSO that had served the Schiehallion field since the late 1990s.
The turret winch, which will be used for mooring line and riser pull operations, has a pulling capacity of 260 metric tons (286 tons) and a steel wire rope length of 300 m (984 ft). It will be deployed during the planned FPSO hook up campaign next year in a water depth of 400 m (1,312 ft). The structure is also equipped with X and Y skidding tables and a rotating platform that allow the operator to position the winch at the vertical position of each I-tube slot over the turret circumference.
Operating conditions at this area, 130 km (81 mi) from the Shetland coast, are ultra-harsh, limiting the available window for installation of the FPSO. The typical maximum annual wave height offshore West Africa is around 3 m (9.8 ft) with a period of 14 seconds, compared with around 13 m (42.6 ft) for a period of 16 seconds west of Shetland. For NFM, one of the main issues was the need to design the system for 100% reliability/availability: Avoiding downtime and failure is imperative in light of the resources that need to be mobilized for the installation/hookup campaign.
NFM performed a full failure mode, effects, and criticality analysis in collaboration with BP and DNV GL to identify any possible failure route and implemented the results in the design. This has led to full redundancy on all the winch platform's main components - hydraulic drives, hydraulic cylinders, braking system, redundant PLC system, 2 x 100% power capacity in the hydraulic power units (HPU). With standard offshore winches, NFM says, redundancy only applies to hydraulic drives and HPU power is usually 50x50%. Another issue for the Quad 204 winch was the selection of suitable materials (6Mo tubing with 500-micron painting on four layers) to withstand the weather conditions during its planned 20-year lifespan.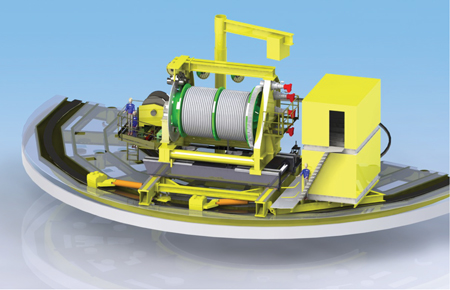 3D view of the complete Quad 204 winch platform with hydraulic power unit. (Image courtesy NFM Technologies.)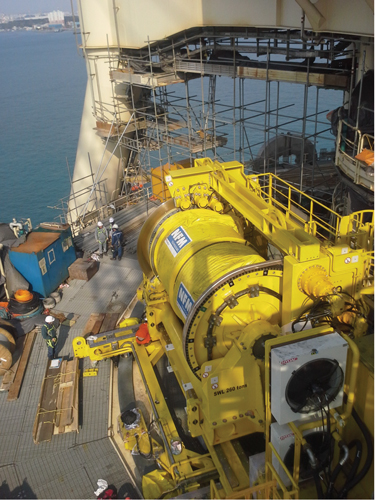 Quad 204 winch platform following integration on top of the SBM-supplied turret at the HHI yard in Ulsan. (Photo courtesy NFM Technologies.)
During installation sequences there is potential for damage on the steel wire rope. As a precaution, NFM has supplied a spare wire rope installed on double compartment drum. In addition, the delivery includes a 40-metric ton (44-ton) auxiliary winch with appropriate cable routing to pull a new rope on the winch drum. Having the appropriate equipment fitted can save time and reduce required vessel assistance if the steel wire rope has to be replaced.
NFM conducted dynamic tests at its factory in Le Creusot following assembly. Total weight of the Quad 204 winch platform is 210 tons (231 tons). The factory, which provides a 22,000-sq m (236,806-sq ft) covered workshop, a 340-metric ton (375-ton) lifting capacity and a 23-m (75-ft) bellow hook, is equipped for manufacturing and testing heavy mechanical equipment,
The company is currently working on two other major new FPSO projects, both in deepwater offshore West Africa. In late-2014, Saipem ordered two 320-metric ton (353-ton) turret winches for the FPSO that will serve Total's Kaombo development in block 32 off Angola. The winches will be delivered at the end of this year, for integration into the vessel at the Sembawang shipyard in Singapore. NFM is also working with Samsung Heavy Industries in South Korea to deliver two riser pulling winches of 240-metric ton (264-ton) capacity for installation next year on Total'sEgina FPSO offshore Nigeria. •