Total is taking remedial action at the Yadana gas field in the Andaman Sea offshore Myanmar to withstand future earthquakes in the Asia/Pacific region following studies performed by Doris Engineering. These examined the impact on the offshore structures and of subsidence of the seabed around the Yadana production complex.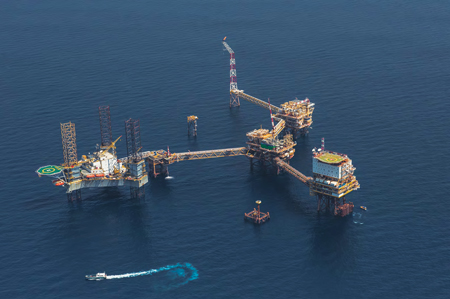 The bridge-linked Yadana complex offshore Myanmar. (Photo courtesy Doris Engineering)
The field is 60 km (37 mi) offshore in blocks m5-m6 in a water depth of 60 m (197 ft). Its natural gas reservoir is around 1,300 m (4,265 ft) beneath the seafloor. Total started production in 1998 through a bridge-linked complex of seven fixed platforms. Following a major earthquake however, the company realized it would have to re-evaluate the original specifications to ensure long-term operations.
One of the main concerns was that further tremors might cause the interconnecting bridges to become unstable or collapse. To determine the corrective action needed to mitigate the impact of the subsidence, Doris undertook conceptual and technical studies between late 2010 and May 2012. As part of this program, the company's subsidiary Géodynamique et Structure in Paris adapted existing software and applied advanced soil diagnostics analysis to model the soil at the seafloor and its interaction with the facilities.
"We had to develop a tool to analyze the dynamic response of the platforms and the bridges to motions, based on the updated seismic criteria," explained Doris chairman Loïc des Déserts. The results were factored into the company's new calculations, completed last year, and incorporated into the detailed design, again performed by Doris, for the new construction program that Gunanasa is working on in Indonesia.
The existing offshore complex comprises the production process platform (PP); living quarter platform (QP); flare platform (FP); medium pressure compression platform (MCP) and the WP1 wellhead platform, both connected to the PP; and the WP2 and WP3 satellite wellhead platforms. Following the review, Total and its partners have sanctioned construction and installation of a new jacket for the existing living quarters. The existing QP-PP bridge will be connected to this new structure. The FP-PP bridge will be dismantled, and a new bridge will be installed between FP and MCP. Following the alterations, Yadana should continue producing at full capacity until 2018 and beyond. •