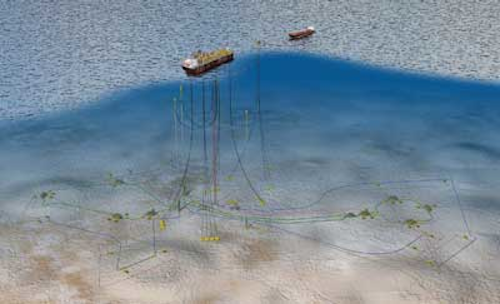 Classification society Bureau Veritas (BV) has entered a technical and commercial cooperation agreement with French hydrodynamic specialist HydrOcean. Under which HydrOcean will provide computational fluid dynamics (CFD) services to BV's offshore clients.
Pierre de Livois, head of offshore for BV, said: "With this CFD expertise now effectively in-house we can help designers and yards to optimize hull forms by evaluating hundreds of designs over a wide range of load conditions in only a few weeks. It saves energy for ships and makes offshore units safer and more adapted to their specific environment."
HydrOcean's numerical solutions are designed to evaluate and optimize the performance of complex hull forms with appendages and propellers, offshore and marine energy units, taking into account non-linear and viscous effects, and with a high degree of accuracy compared with model tests, the company claims.
It is developing these solutions with marine numerical simulation specialists at the Ecole Centrale Nantes fluid dynamic laboratory in western France, which provides HydrOcean with access to an unlimited number of licenses to help reduce project costs and time schedules.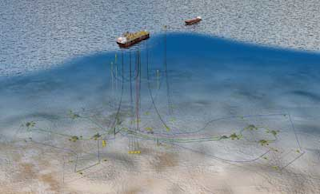 Subsea spread of CLOV FPSO (Photo courtesy Total and Subsea 7).
Motion studies
Among BV's other current projects for offshore vessels are simulation of fluid kinematics when green water occurs to find the loading on deck equipment; new formulations for bilge keels to dampen rolling; and analysis of the hydrodynamic behavior of FLNGs and FRSUs, including multi-body interactions, gap resonance, and the coupling of sea-keeping and sloshing in short-crest waves and shallow water areas.
More projects are planned on air-gap and run-up estimation for semisubmersibles and evaluation of the water column motion inside the large open moonpool in drilling ships. Another study concerns the motion of deep-draft semisubmersibles and TLPs due to the vortex created by current passing platform columns.
"We have recently updated our Ariane software for moorings for fully coupled effects and a software tool has been released for use on board offshore units while adjusting mooring spreads," says de Livois. "Ariane is being developed as a tool for marine operations which will allow operators to calculate the responses of floating units to moorings and other floaters when planning operations."
Bureau Veritas' HOMER hydrodynamic soft- ware was used to evaluate the fatigue and strength of a round FPSO design for Eni's Goliat development project in the Norwegian sector of the Barents Sea. This year HOMER will be further updated and merged with the VeriSTAR CSM software tool to deliver finite element (FE) model generation, quasi-static hydro structure coupling, and strength assessment in one single tool.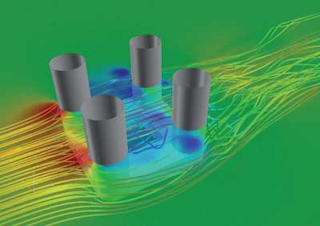 Computational fluid dynamics modeling by HydroOcean for TLP assessment.
Another BV service is integrated classification, certification, and lifetime asset integrity maintenance. South Korea's DSME and Total assigned structural integrity management tasks for the CLOV FPSO for block 17 offshore Angola to BV's consultancy arm Tecnitas. The work included compiling a complete record of the building showing all non-conformities and preparation of a full FE model of the hull and topsides in their as-is condition on delivery to Total.
That model will form the basis for ongoing risk-based inspection and asset integrity maintenance programs that BV is providing, using software tools such as VeriSTAR HLC. Studies will focus on inspection of relevant structural areas; preparing inspection campaigns by taking into account the means of access; assessing the corrosion condition of the unit against BV's or user-defined criteria; and managing data on the structure and topsides for the long term in an open format.
BV certified CLOV's entire subsea, umbilical, riser, and flowline installation for the contractor Subsea 7. A BV team coordinated the design and installation engineering review along with necessary inspections for procurement in Europe and in Angola for onshore construction in Lobito (and offshore).
The certification included a full review of the engineering documentation in order to issue independent design review certificates for the conformity to contractual specifications and standards. The scope took in the production rigid loops, the water injection and gas export flowlines, the umbilical, and the riser system based on two hybrid riser towers and one single hybrid riser.