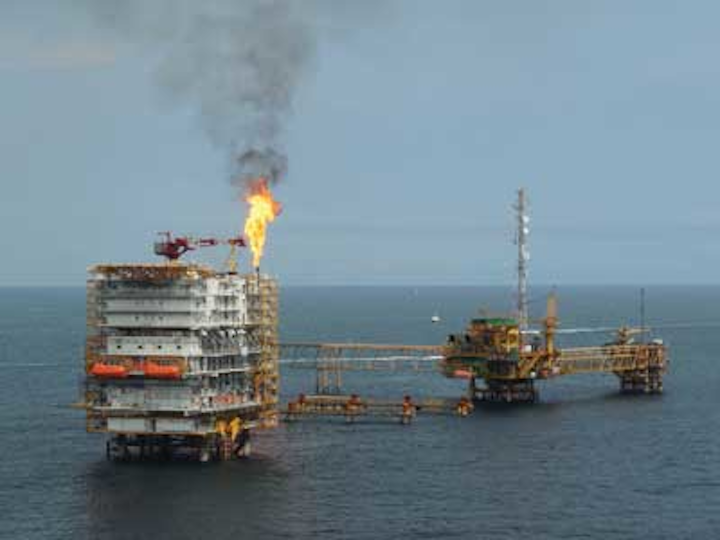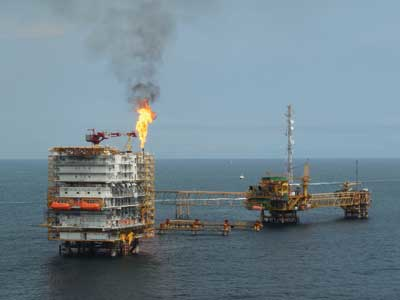 Total's newly installed Ofon Phase 2 OFQ platform. (Courtesy Eiffage Construction Metallique)
Saipem's crane vesselS7000 has installed the 7,000-metric ton OFQ living quarters platform for Total's Ofon Phase 2 project offshore Nigeria. Eiffel Nigeria Ltd. is completing hookup and commissioning of the facility which will be bridge-linked to the new Ofon P2 wellhead platform.
To satisfy Nigeria's local content requirements, Niger Dock in Lagos built the three upper accommodation levels of OFQ's deck, while Aveon's yard in Port Harcourt constructed the helideck, spider (cellar) deck, jacket, and piles. Eiffage Construction Metallique's yard in Fos, southern France provided the intermediate deck, lower deck modules, and the central control room.
A total of seven packages were transferred to theS7000 for installation late last year. "The main issue we had to deal with was logistics, ensuring that each package would be ready for the arrival of the S7000," said Arnaud de Villepin, offshore energy director at Eiffage Construction Metallique (ECM). In the event, all the consignments were delivered on time and installed without problems.
All remaining offshore activity should be completed during 3Q 2014. "One problem of spreading the topsides construction in particular is that it lessens the scope for commissioning onshore and increases the number of connections offshore," de Villepin said. "We will look for a different execution plan for future projects."
ECM was awarded the $500-million EPC contract for OFQ as part of a consortium also involving Eiffel Nigeria and Nigerian architectural specialist OOPE. The trio plan more joint bids for other upcoming Nigerian developments requiring living quarters. These include Chevron's Funiwa and Nsiko and Shell's Bonga Southwest and H block. Eiffel Nigeria hopes to tender for the new wellhead platform for Total's shallow-water Ikeke development.
Elsewhere in West Africa, ECM is monitoring Perenco's investments, Total's Moho Nord project, and Eni's intentions following its large Nene Marine and Litchjendilj discoveries offshore Congo. ECM has a local partner in Pointe Noire with Congolese maintenance/engineering contractor Laine Diane.
Currently the Fos yard is working under subcontract to Ponticelli on two new topsides modules and an interconnection structure for the FPUAlima, which is being upgraded to handle extra production from Total's Moho-Bilondo project off Republic of Congo. The separation and manifold modules will each weigh around 300 metric tons (330 tons) and should take around a year to complete.
"Despite the difficult situation in Libya," de Villepin added, "ECM is still developing its business in the country, providing services to the oil and gas sector since the formation of ECM Libya in October 2012."
During the 1990s ECM supplied a drilling module for the ACG development in the Azeri sector of the Caspian Sea. Now the company is looking to form partnerships with established fabricators in Azerbaijan. This could lead to bids for subcontract work for Shah Deniz 2; another new offshore project operated by SOCAR; and for components for a new semisub that Keppel is building in Baku.
In the past ECM also supplied drilling modules for platforms in the North Sea. The company may look to re-enter this sector following its recent acquisition of Smulders, an Antwerp-based specialist in wind farm foundations.