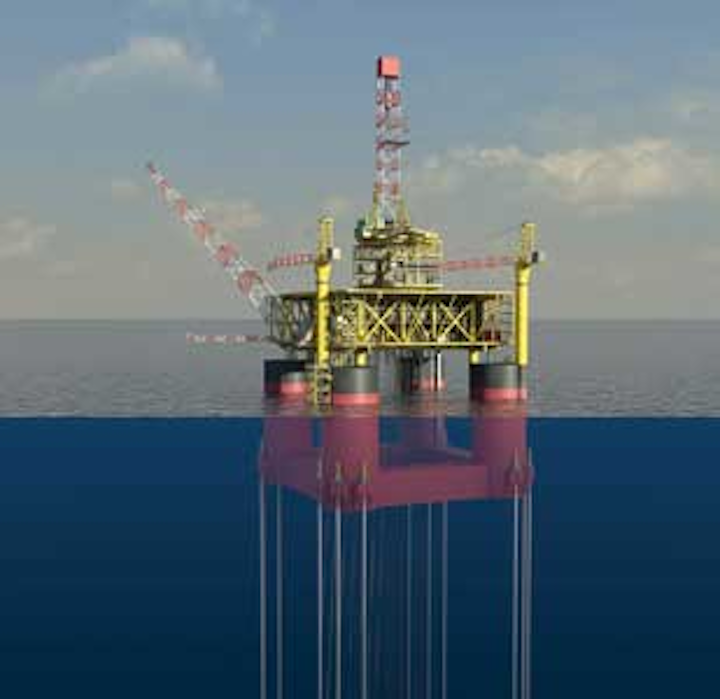 3D view of the new Moho Nord TLP. (Courtesy DORIS Engineering/F. Lucazeau)
Doris Engineering has been working on various studies for the next wave of deepwater developments offshore West Africa, including Total's Moho Nord development offshore Republic of Congo. Doris collaborated with Hyundai Heavy Industries (HHI) to win a design competition for the new unmanned wellhead TLP, and carried out detailed engineering of the new FPU. HHI is performing both construction programs in South Korea, with Doris' assistance. Doris also worked on changes to the subsea layout and NKF2 platform to accommodate 11 new wells in the southern area of the Moho-Bilondo permit.
Offshore Angola, Doris completed a front-end engineering design (FEED) study for Total's Kaombo project in ultra-deepwater block 32. Total was due to submit its preferred development concept to Sonangol for review last month. And in the Eni-operated block 15/06, Doris has been working on subsea process design and layout studies to verify the impact of tying back various satellite discoveries to an FPSO on the planned West Hub.
The French contractor's Houston-based subsidiary Doris Inc. is performing subsea studies for Cobalt International Energy on the ultra-deepwater presalt Cameia discovery in block 20. Offshore Nigeria, Doris Inc. is working on the subsea FEED for the Nsiko development, which Chevron is looking to revive.
Elsewhere, Doris has supervisory or assistance roles in various ongoing projects. In the Mexican sector, Doris Inc. is providing project management services for Lakach, Pemex's first subsea-to-beach development. In Brazil, Doris performed the FEED for Petrobras' eight lookalike FPSOs for the presalt Santos basin fields. The design assistance contract is coming to an end and the company's personnel remain involved in the program's current phase, assisting with supervision of shipyard fabrication operations.
Doris and joint venture partner Clough have seconded more than 200 personnel for project management services in South Korea and Singapore, where the hull, topsides, and turret are under construction for INPEX's Ichthys development off northwest Australia.
In Angola, the company continues to work on engineering studies for the ADC consortium of deepwater operators and Sonangol. One completed study was for a shared offshore pipeline repair system. More recently, Doris has been working on a FEED study on field abandonment requirements, and on a system to monitor riser integrity on the ADC's various fields. Another project involves investigating the use of radar along Angola's coast to to compile real-time metocean data to assess the impact of waves and currents on offshore facilities.