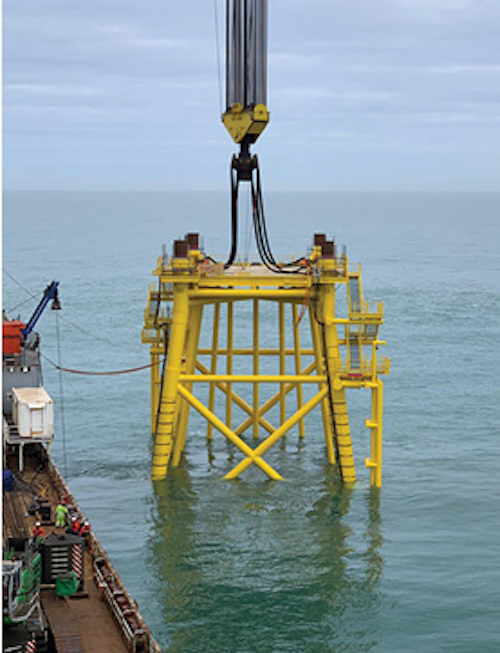 Over the past few years Eiffage has extended its offshore construction portfolio through the acquisition of Smulders Group and more recently of Saipem Travaux Maritime (since re-named Eiffage GC Marine).
The offshore activities have expanded into wind farm foundations and substations construction and offshore major civil works. These are in addition to the company's historical business such as construction of technical modules, drilling or wellhead platforms, and living quarters.
Eiffage GC Marine is currently involved in BP/Kosmos' Tortue gas-condensate development offshore Senegal and Mauritania, completing the front-end engineering design for the LNG terminal breakwater jetty, and now starting to place orders following the final investment decision in late 2018.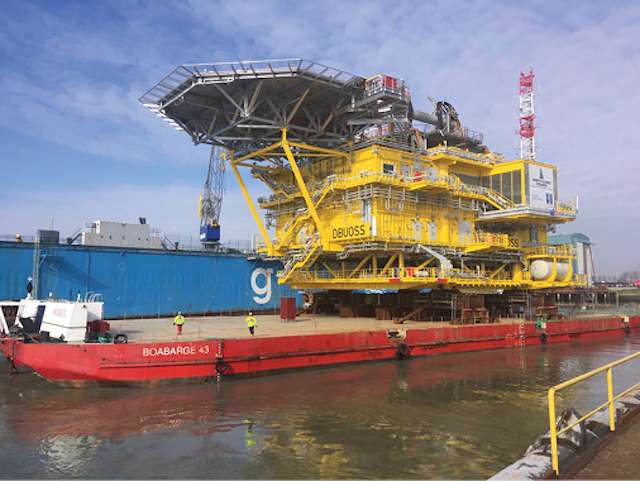 Load-out of the 2,500-metric ton (2,756-ton) topsides for the Deutsche Bucht Offshore substation.
Smulders, in a consortium with DEME, has just signed a large EPCI contract for the provision of 55 jackets - each three-legged, 85 m (279 ft) tall and weighing 1,000 t - for the Moray East wind farm offshore Scotland. The customer is EDPR/ENGIE. Most of Eiffage Métal's factories will be involved in the project, namely those at Hobokken, Balen, and Wilhems in Belgium; Lauterbourg and Fos in France; and Zary in Poland. Final assembly will take place in the Wallsend yard on the River Tyne in northeast England.
Among the company's other contracts are the Deutsche Bucht Offshore Substation project, installed in March and April this year in the German North Sea by the Seaway Heavy Lifting vessel Oleg Strachnow. An integrated team from Eiffage Métal and Smulders managed the EPCI program, combining their respective competencies in the oil and gas and wind sectors.
Another confirmed offshore wind farm project – France's first – is 15 km (9.3 mi) from the port of St Nazaire on the west coast, near Nantes. Here Eiffage Metal is in an EPCI consortium with DEME Group for the monopiles and transition pieces foundations. Construction will start in 2020 at Smulders in Antwerp and at Fos, and the completed foundations will be transported initially to La Rochelle, south of St Nazaire, then installed by DEME during 2021-2022.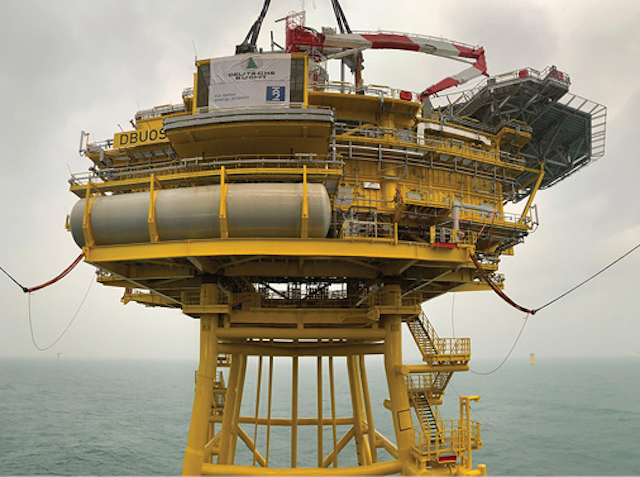 Installation of the topsides for the Deutsche Bucht Offshore substation.(All images courtesy Eiffage)
Eiffage Métal's yard at Fos in southern France is presently producing modular bridges for civil purposes in the Philippines. But the bridges are also suited to swamp area or coastal infrastructure related to oil and gas field developments in tropical regions. One of Fos' recent consignments was for ExxonMobil for a near-shore field development in Papua New Guinea.
In the near term Eiffage Métal is monitoring field development prospects offshore Nigeria, in particular the living quarters for Snepco's Bonga FPSO. There may also be opportunities in Libya – here the company delivered the Fast Moving Work Over Rig to Eni 15 years ago. •