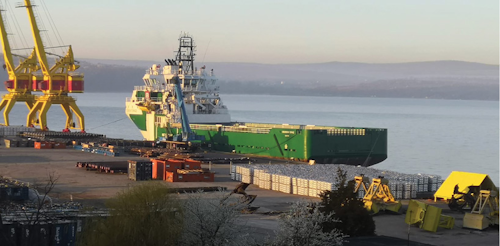 (Courtesy Bourbon Marine & Logistics)
Shell has contracted Bourbon Marine & Logistics to support an exploration drilling campaign in the Bulgarian sector of the Black Sea. This is the first integrated logistics contract for Bourbon. The company said that it illustrates the validity of the #BOURBONINMOTION strategy, which is aimed at new services-oriented business models.
Starting on Feb. 15, 2019, and in partnership with the Bulgarian port operator Bon Marine, Bourbon will provide marine services, a logistics base in the port of Lesport in Varna, warehousing, port facilities, cargo carrying units, waste management, and customs clearance.
The company will deploy two large DP-2 platform supply vessels, the Bourbon Topaz and Bourbon Diamond, for the campaign and its latest digital data management tools to optimize operations.
The deepwater drillship Noble Globetrotter II was due to start the three- to four-month campaign last month.
Bourbon said its proposal for an integrated end-to-end solution accorded with Shell's desire to test a light-footprint strategy in exploration involving more risk-sharing with its subcontractors.
CEO Victor Chevallier said: "This contract represents a major step in the development of Bourbon Marine & Logistics and encourages us to go further by proposing new services to accompany the evolution of our clients' needs." •