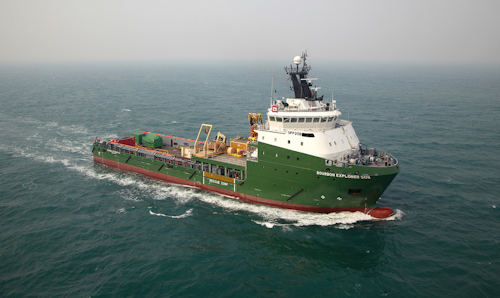 (Courtesy BOURBON Offshore)
Bureau Veritas (BV), offshore support vessel provider BOURBON, and Kongsberg Maritime have successfully tested a new method of performing dynamic positioning system performance and redundancy audits. They claim this is a first for the maritime industry.
The trio developed the DP Digital Survey application to run on an industrial management system that is said to ensure a high level of data consistency for the verification of installed systems. It acquires information directly from the DP system, delivering it to auditors via a secure cloud infrastructure, in this way allowing mandatory surveys to be implemented remotely.
Vessel owners using the remote survey tool can compile what the trio claim is a comprehensive package of test execution and completion evidence. They add that the app's capabilities go far beyond the photo and video recordings introduced to the offshore and maritime sector over the past few years.
Kongsberg Maritime's plans for continued development of the app include gradually automating the survey by capturing and digitalizing the best practice of DP auditors; re-designing the survey process and tests to suit the new tools, based on industrial data; and establishing a continuous 'DP Digital Survey' framework that will involve detailed remote monitoring of the performance and technical availability of the DP system.
Laurent Leblanc, VP and Marine Operations Director at BV, said: "The key for us is to receive reliable performance and failure data, not just photos and pictures. We have to first check the data is of sufficient quality: data management is a key factor, along with cyber-security for data transfer." BV would then review and assess the data.
Frederic Moulin, BOURBON's Operations Director, added: "This project greatly contributes to the aim of our smart shipping program which is to capitalize on the digital revolutions as to stand out through a connected fleet, while simultaneously reducing our operational costs. With our partners we are ready to extend the 'DP Digital Survey' to sister ships in the coming months, and plan for further deployment later."
According to Najmeh Masoudi-Dionne, Global Technology Leader, Smart Ships at BV, the company's MAC subsidiary, which specializes in DP systems, was delegated to assist BOURBON and Kongsberg Maritime in ensuring the functionality, availability and reliability of the survey system, providing user-friendly insight for remotely located surveyors.
"This is a digital tool running on an industrial data management system that ensures unprecedented data consistency to verify onboard systems. DP Digital Survey acquires the information directly from the ships' control systems and delivers it to the auditors via a secure cloud infrastructure, thus representing a real improvement in terms of quality of services.
"The benefits of the remote survey are not just reliable data, but also time and cost savings….BV will continue to support any remote initiatives undertaken via a reliable tool, such as the one from Kongsberg Maritime. In addition, BOURBON, BV, and Kongsberg Maritime will continue to work on further enhancements of this tool." •