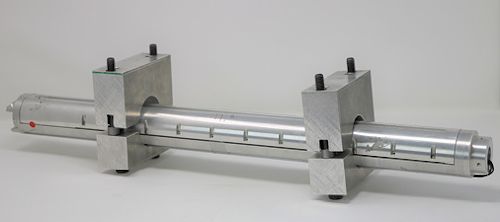 (All images courtesy Watt & Well)
Over the past decade Watt & Well has developed a range of power electronics, associated software and control algorithms for downhole and surface drilling, logging and wireline tools. The company has adapted for its designs some of the best practice applied by clients in the aerospace and automotive sectors.
CEO Benoît Schmitt and COO Raul Iglesias worked together previously at Schlumberger on wireline and drilling tools, Schmitt specializing in hardware R&D and Iglesias in software. They left together in 2008 to form Watt Consulting, based in Paris. At that time two main issues were dominating downhole tool development for offshore wells, according to Schmitt. One was the industry's desire to stretch the envelope for high-pressure/high-temperature drilling; the other was the need for more sophisticated power electronics for rotary steerable and tractor tools.
"We thought it was worth a try to provide more power to small-size motors," Schmitt said, "especially in HT applications. Then after two or three years, we started working with new customers in the automotive and aerospace industries and became interested in adapting their ways of working, and those of other industries, to the oil and gas sector."
In 2011, the company introduced its first motor control product for HT environments, the first of what has since become the Nar series ('Nar' being Arabic for 'fire'). A year later, Watt Consulting began working with Renault on designing a range of embedded chargers. Then in 2013 the company opened its first facility dedicated to assembly and industrialization of power products, in Pertuis in the Vaucluse region of southern France.
Other landmark events that followed were a change of name to Watt & Well in 2016 and the establishment the same year of a US subsidiary in Houston; and in 2017, the construction of a larger production facility in Pertuis, and the Ariane Group's selection of the company to develop the motor controller for the second-stage motor of the Ariane 6 European satellite rocket launcher. The company has also devised a solution to reduce the cost per watt of quick charger equipment for the electric vehicles sector.

Nar Motion XS.
"The automotive industry is very professional and competitive in its way of working," Schmitt said. "All components of a car are comprehensively modeled prior to development. By working with Renault over several years on their embedded chargers, we have learned how to integrate high-quality modeling in our power electronics development. We hired expert engineers and Ph.D professionals and have now adapted our experience to offer complete modeling of oil and gas power systems. The main purpose of this exercise is to reduce integration times, to ensure you have a good model that works.
"What I see typically in downhole tool development is a sequential approach in which one architect develops the fundamentals of a tool, or hardware, determining input/output requirements. A second engineer focuses separately on software and testing, trying to bring everything together – and then the combined product doesn't work because the interface is incorrectly set, or the connections don't function as they were supposed to do."
Watt & Well uses MATLAB, a multi-paradigm software package developed by MathWorks to integrate computation, visualization, and programming in a way that is said to allow problems and solutions to be expressed in familiar mathematical notation. "Oil and gas companies really like it, because it allows their tools to interact much better with our equipment," Schmitt said. "It's like Open Software, allowing companies to develop their modeling together, giving them an easily accessible view of the development and the possibility of changing it.
"A typical problem with power electronics development in oil and gas is electromagnetic interference (EMI), and that is why the separate elements do not sometimes work together. Our approach is to offer training to our customers on EMI so that they can improve their working methods."
The Nar range today is extensive, and includes motor controller drivers for DC brushless motors with miniaturized sensored or sensor-less speed mode for HT applications; step-down DC/DC power converters handling a wide voltage input range for a regulated voltage output; a wireline modem that provides telemetry between downhole tools and surface equipment on oilfield service cables; and a high-voltage power supply for downhole tools that provides an input voltage range of up to 1.2 kV. "Our focus is on constantly improving our basic products in terms of modeling, software and power capacity," Schmitt said.
"Today in oil and gas, our business is now more than 90% about selling our products and 10% acting as consultants." Pertuis is the company's specialist center for engineering, R&D, and manufacturing for oil and gas. The facility also undertakes integration of all controls and wiring for printed circuit boards for the company's products, with burn-in tests performed on each individual board at temperatures up to 150°C to ensure no risk of failure (manufacture of the PCBs is subcontracted to two specialist companies). "We have developed our own test benches tailored to our products," Schmitt explained. "If a certain product proves popular, we will create a dedicated test bench. Pertuis can produce more than 5,000 items of equipment per year."
Watt & Well established the branch in Houston to also act as a consultancy to oil and gas clients. "The trend we see is that customers have less and less money for R&D for new tools, but at the same time they want to go faster and faster to market." •