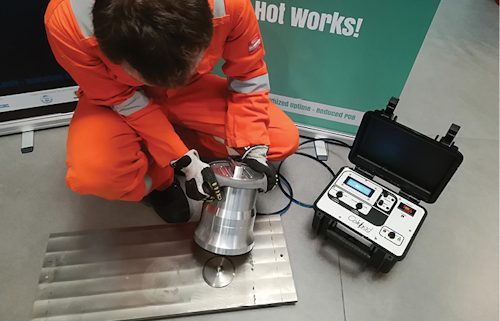 (All images courtesy Cold Pad)
Offshore operators are monitoring Cold Pad's developments in bonded composite repairs of corroded steel structures in FPSOs. This follows successful outcomes for the first two applications of the company's ColdShield process on floaters in service in tropical locations. In both cases, repairs were conducted with minimal disruption to normal activities, and no impact on production.
Crop and renew (steel cutting and welding) are the conventional methods for addressing corrosion damage for the shipping industry, but the associated risks of hot work in a flammable or explosive environment can force a full field shutdown of an offshore production facility. FPSOs are particularly vulnerable because of their crude oil storage function: if the oil tanks themselves need repairs, cleaning them to ensure safe conditions for welders can lead to weeks of disruption.
For this reason, FPSO owners and operators have long been seeking an alternative cold work process that can be applied effectively in humid environments. Cold Pad adapted the basic principles of bonded composite reinforcements developed by the aerospace sector – applying composite patches and epoxy resin wet layered to reinforce structures in aeroplanes – for ColdShield. The Paris-based company worked on the process for three years under a three-year R&D program supported by Total, the French research institute, IFP-Energies nouvelles (IFPEN), and three laboratories in France.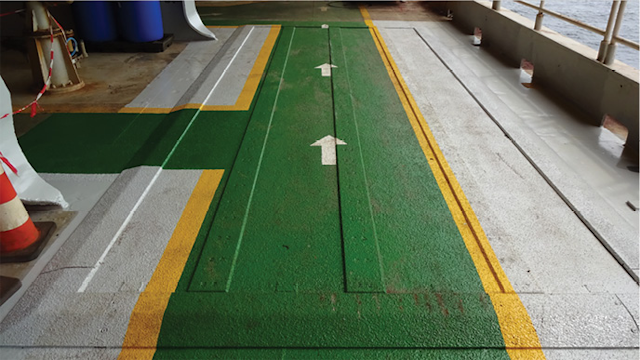 Deck repair following application of ColdShield.
ColdShield is a prefabricated reinforced product that combines various high-strength materials and polymers which are protected by a super-duplex alloy and a fluorinated silicon joint. For the installation, a surface preparation is first applied to ensure a load transfer through adhesion. To ensure optimum adhesion, a drying process is then initiated to create a humidity level of less than 1% of relative humidity (whatever the outside atmospheric conditions might be). Then vacuum-assisted resin injection can begin, using a specially developed injection machine: at the end of this process, an ATEX polymerization console is used to cure the injected resin and ensure optimal structural polymer properties.
Cold Pad claims that because hardening of the resin is performed under a vacuum, the peripheral seal remains permanently compressed tight, with the structural and material property protected from the offshore environment throughout its service life – the company describes this as 'durable encapsulation.' Current class approval of the encapsulation indicates a minimum 10-year design life, but Cold Pad is confident of a likely service life of more than 20 years, according to the company's VP Sales and Marketing Christophe Paillusseau.
"To date we have completed two ColdShield projects. The first, was on an SBM Offshore FPSO off West Africa, and involved repairs to four brackets inside a void tank. The client told us our 'cold work' approach saved more than $3 million compared with hot work or an alternative technique, which would have disrupted production and involved more personnel onboard. We had a team of four people for this job, and the work took less than a week to complete. Typically, a hot work crew of 10 people would have needed two weeks. We followed up last summer with a survey to check the status of the areas repaired: all the ColdShield structures were performing as expected.
"Our second job was much larger in scope, a repair covering a 120-sq m [1,292-sq ft] area on the upper deck of an FPSO offshore West Africa, built prior to 2005. There was corrosion all over the affected area which required a repair as per class standards. Due to the midship location of the repairs, the team conducted a thorough engineering analysis with the class society to prove the hull girder strength reinforcement. Once completed, we deployed a team of four technicians at the end of last year for the overhaul campaign. The team spent a total of 25 days offshore completing the work, and other repair campaigns will follow on the same vessel later this year.
"For the client – a major operator – there were two main considerations in choosing a cold work solution, despite the higher cost, in this case Eu4-8 million [$4.5-8.99 million]. One was safety – the risk that a gas leak during hot work might lead to an explosion. The second was economics, that fact that our team could do the repair with no impact on normal operations: under a shutdown, the work could have taken two months to complete, with lost crude production over that period in the range 100,000 to 200,000 b/d. The client said the solution saved the partners $100 million – but technically, we're not even sure hot work would have been possible for a midship repair if it had meant having to make a big hole in the deck amidships, because of the associated risk."
Between the first and second campaigns, the manufacturing process had become more efficient, Paillusseau said. "Now we could produce 60 ColdShield pads, some measuring up to 8 m [26 ft]. In both instances, the process did achieve the required level of less than 1% of relative humidity, as witnessed by class societies."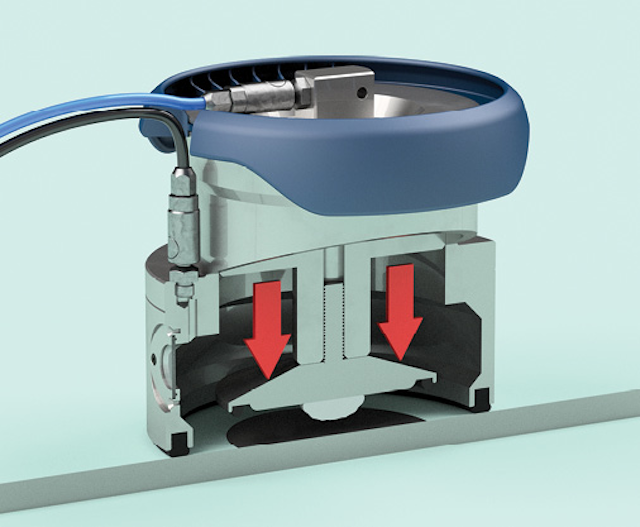 C-Claw provides structural reinforcement of severely corroded offshore areas.
Cold Pad continues to work on further initiatives. "We have launched a new development with Total concerning life extensions of static pressure vessels, called RSS (Reinforced Strap System). Pressure vessels are critical to platforms and FPSOs: if this equipment has to be shut down due to corrosion, it can lead to a partial or full loss of production.
"RSS will be a new tool for offshore operators to shift their maintenance from planned shutdowns to general maintenance in ATEX environments, with no hot works. The new process is designed to extend the lives of pressure vessels by three to 10 years and provide enhanced operational flexibility to allow the operator to decide when to enter the pressure vessel. The partners are targeting a commercial product by the end of 2020."
Another new product, introduced last summer and first delivered in September to a facility offshore Angola for a temporary application, is the C-Claw. This is a heavy-duty fastener designed as a solution to repair severely corroded outfitting supports such as hand rails, pipe supports, and cable trays on ballast or crude oil tanks (a common problem on older platforms and FPSOs). According to Paillusseau, maintenance teams are often fully occupied working on production equipment with no spare time for secondary repairs. "A Cold Pad team can handle these repairs during normal production with limited impact on POB and without causing disruption to production. There has been an extremely good feedback from oil and gas clients and this has led to several orders for C-Claws from companies in Angola, Australia, Brazil, Congo, Indonesia, and Malaysia. One is for a permanent leak repair on a hull in an FSO." •