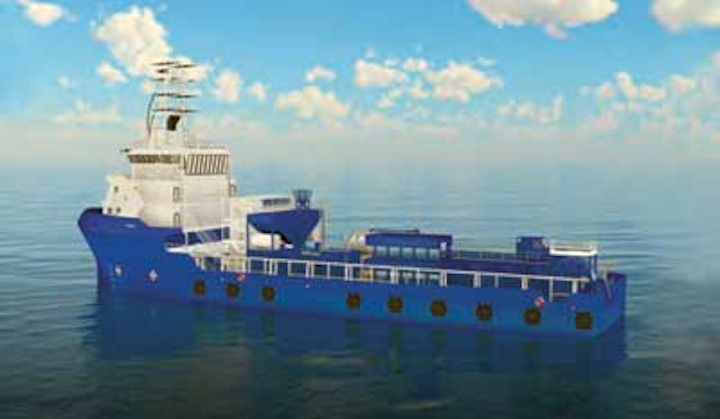 Advances provide more efficiency, production
Don Francis
Special Correspondent
AsOffshore magazine's World Survey of Stimulation Vessels made clear, the global fleet of vessels available to the industry for this critical process is the largest in its history. And, the technologies onboard are certainly the most advanced to date. Deepwater stimulation vessels may be the technology superstars, but offshore intervention, while perhaps not as glamorous as big-league pressure pumping operations, also has an essential role to play and a similar set of difficult challenges.
The FlexSTIM Pronto modular design allows equipment installation in seven days on a standard Bourbon GPA 670 vessel. (Image courtesy Schlumberger)
Modular stimulation packages
Augmenting the fleet of today's highly capable, conventional stimulation vessels are supply boats that serve "ad hoc" as stimulation vessels when the situation demands it. This is made possible by the introduction of modularity, which gives new capability to the existing conventional supply vessel fleet. This approach has proven effective in helping operators meet technical, logistical, and operational challenges in remote offshore locations. These modular designs are said to offer the same level of operational quality as a dedicated stimulation vessel.
Schlumberger says its FlexSTIM Pronto system can be rigged up or rigged down in just seven days, while reducing health, safety, and environmental exposure. The design offers process control of all equipment by remote control systems from the control cabin, and the stimulation package can be placed on an offshore supply vessel. The lightweight equipment package was designed for offshore use and installation on the back deck of a conventional supply vessel or a platform supply vessel.
The Baker Hughes StimFORCE modular stimulation system is an operationally flexible pumping package composed of skid-based pumping equipment, which can be shipped to a location and reassembled on a platform supply vessel, barge, or offshore rig. A grid framework secures the pumping equipment to the vessel or barge, to ensure safety. The system is DNV 2.7-1 certified and CE marked. The equipment, which meets ISO dimensional standards, is secured using twist-lock connections.
An operator working offshoreWest Africa had a delay that forced the cancellation of a reserved stimulation vessel, which moved on to another project. The system was deployed to the well site instead and enabled the pumping of 38 well treatments on 27 wells, saving the operator $9 million in idle rig time.
Modularity versus specialization
While modularity has its advantages, the highest level of offshore stimulation capability is gained from vessels designed for the requirements of a specific operating area.
Engineered forNorth Sea conditions, Baker Hughes recently launched the Blue Orca stimulation vessel. It houses five pump units, each capable of delivering 2,750 hydraulic hp. The two fluid-end sizes can be reconfigured for flexibility. The vessel can carry 2.5 million lbm (1,134 metric tons) of sand or equivalent proppant, which allows multiple fracturing treatments without returning to port to resupply.
New systems permit blending of high-quality fracturing fluids and eliminate the need for oil-based slurried polymer concentrates. A three-mode acid-blending system enables mixing a range of organic or inorganic acid systems. Eight lined tanks hold a total of 180,000 gal of organic and inorganic acids and solvents.
Built for dedicated use by Saudi Aramco, Halliburton's newest stimulation vessel, theStim Star Arabian Gulf, is designed to meet the stimulation requirements of Arabian Gulf wells. It is working for the Manifa field stimulation campaign.
The vessel meets or exceeds SOLAS, IMO, IEC, and MARPOL regulations. Although developed primarily for acidizing treatments on both producing and injection wells in the Manifa field, the vessel can handle all phases of production stimulation, including fracturing, sand control, and conformance solutions for the Middle East offshore market.
TheStim Star Arabian Gulf is 234 ft (71.32 m) long, 56 ft (17.07 m) wide, and 18 ft (5.49 m) deep. It can provide up to 14,000 hydraulic hp for stimulation treatments. The vessel has acid-on-the-fly (AOF) capability and the ability to reconfigure using the company's vessel modular solution system. The AOF system provides real-time control of the acid blend.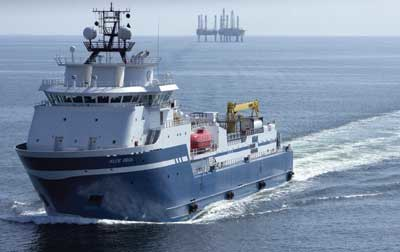 TheBlue Orca is engineered for North Sea conditions and can perform a series of well stimulations and sand control operations without the need to return to port and resupply. (Photo courtesy Baker Hughes)
DP intervention
Intervention, stimulation's close relative in the family of tools for increasing (or restoring) production, has also seen new developments to address the unique problems of offshore intervention operations.
Halliburton has performed a coiled tubing (CT) and catenary workover operation in the South China Sea from a dynamically positioned (DP) vessel. This is believed to be a first in the region.
In rough seas, regular work vessels have to separate from platforms, halting operations to pick up anchors to avoid dragging into undersea pipelines. During the monsoon season, workover operations virtually cease, compromising production. In quickly changing conditions, anchored vessels may not have the time needed to disconnect and pull up anchors.
Halliburton partnered with the owner of a DP vessel in Brunei to outfit it with coiled tubing and catenary equipment. The vessel remains in position when seas are high. There is also no need to transfer the CT reel, power pack, and control console to the platform, saving rig-up and rig-down time.
The use of the DP vessel enables Halliburton to quickly disconnect from the platform in the event of approaching weather. Because the CT reel was on the DP vessel and catenary disconnects were used, crews can quickly separate from the platform.
Riserless well intervention
FMC Technologies's riserless light well intervention (RLWI) system is intended for all types of wireline jobs using braided wire or slick line. It enables operations of tool strings with variable length and requires no circulation of well fluids to the intervention vessel.
The system can operate on all subsea tree configurations for production and injection wells. It has provisions for well kill and is designed to be as efficient as rig-based operations. It is currently available in 71⁄16-in., 10,000 psi configuration and includes upper and lower lubricator packages, together with a well control package and adapters to suit most subsea tree types.
A proprietary lubricator system is used to insert downhole tool packages into the wellbore under full pressure, without taking hydrocarbons back to the vessel or to the environment. The technology enables integrated operations and increases safety by reducing personnel exposure.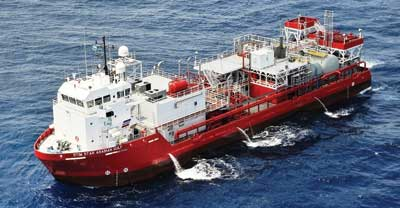 TheStim Star Arabian Gulf has acid-on-the-fly capability and can be reconfigured using the company's vessel modular solution system. (Photo courtesy Halliburton)
Light well intervention vessels
Statoil uses light well intervention (LWI) vessels to increase recovery from subsea fields, and says these vessels reduce costs.
The company operates approximately 500 subsea wells on the Norwegian continental shelf (NCS), where the liquid recovery factor of subsea fields is lower than for fixed installations. Maintenance of damaged wells and reopening of shut-in wells are important to increase the production rate and recoverable volumes.
According to Statoil, to maintain current production levels on the NCS toward 2020, it is vital to secure an efficient rig fleet adapted to the assignments. Sustainable cost competitiveness, drilling efficiency, and sufficient rig capacity are key factors. The company says that compared to conventional drilling units, LWI vessels reduce the cost of well interventions by approximately 60%. Reduced well intervention costs also help increase the number of interventions.
The company has carried out riserless light well intervention operations since 2000. These vessels are faster to redeploy than a moored semisubmersible. Statoil has three LWI vessels from Island Offshore in operations on the NCS. From 2015, two vessels from Island Offshore will be on contract for the company.
The light well intervention vessels are connected to a well with the aid of a subsea lubricator lowered to the seabed. They can perform logging and workovers, but they do not drill. During light well intervention services, downhole equipment is remotely operated via wireline from the surface and—unlike rigs—without a riser.
The "category A" units are designed for mid-water operations (70-450 m or 230-1,476 ft water depth), and can operate year-round across the entire NCS. The units are designed based on the company's functional specification and include the vessel, subsea wireline stack system, wireline, and ROVs.
The category A design for light well interventions offers advantages, the company says. It is cost-effective, uses dedicated equipment and tools, and provides permanent access to work and maintenance areas. There is no anchor handling, and a single service contractor is responsible for the complete operation.
The units are designed for efficient and safe handling of equipment. Skidding systems enable safe material handling of equipment and modules in rough weather conditions.
Under category A contracts, each contractor is responsible for wireline services and ROV services as an integrated part of the category A service. Statoil will award the contract on behalf of the participating licenses. TheIsland Frontier and Island Wellserver contracts are for five years, with two two-year options. The licenses participating in the cooperation are: Åsgard, Norne, Gullfaks, Oseberg, Heidrun, Snøhvit, Tyrihans, Tordis/Vigdis, Snorre, Statfjord, and Sleipner.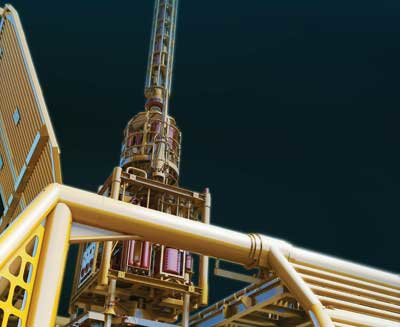 The riserless light well intervention system can perform operations on all subsea tree configurations for production and injection wells. (Photo courtesy FMC Technologies)
Chemicals
Deepwater vessels are the most visible part of stimulation operations, but other, behind-the-scene components such as chemicals and proppants are also essential to success.
Problems such as inorganic and organic deposition, corrosion, and reservoir souring can occur after stimulation. During a well's stimulation phase, the Baker Hughes StimPlus flow assurance service pumps slow-release, solid flow-assurance chemicals into the reservoir as part of fracture, gravel pack, or other stimulation treatments, to protect against production flow problems. For deepwater and ultra-deepwater wells, a solid substrate ensures reliable application in high-pressure environments.
The service includes a variety of field-proven, chemically compatible additives to protect against bacteria-induced corrosion and reservoir souring. They are also intended to ensure constant production flow and prevent deposition in the formation and wellbore after the treatment.
For deepwater wells, the company's high-strength scale inhibitor particles can serve as a conventional, medium-strength proppant while providing long-term inhibition. These particles can be used in closure pressures greater than 8,000 psi.
Enzyme technology
Based on bioengineering, a novel technology from EOR Solutions uses an enzyme with the property to attach to hydrocarbons and subsequently release them as droplets, which can then be recovered. This mechanism causes the removal of plugs made from deposits of heavy hydrocarbons near the wellbore, leading to increased fluid flow.
In water-wetted systems, the enzyme changes the surface to become enzyme-water wetted. The enzyme also reduces the surface tension between oil and the aqueous phase. These effects cause the release of oil trapped in pores.
The ultimate use of the technology is in flooding systems where the whole reservoir is flooded with a diluted enzyme solution. This causes a reduction in residual oil saturation following actual enhanced oil recovery.
The enzyme is said to be nontoxic, nonpathogenic, and biodegradable. It is resistant to temperatures and chemicals typically present in reservoirs.
Because the well stimulation process using the enzyme technology is simple—it requires only a setup of mixing tanks and pressure pumps—it is applicable to both onshore and offshore wells. The enzyme does not interact with water salinity, and dilution with seawater and preparation for offshore well stimulation can be done on the rig or platform.
The enzyme technology is mostly used for permanent changes to formation wetting conditions near the wellbore. Accordingly, wells that have been in operation for a long time or have conditions in the formation or oil properties that are causing deposition of asphaltenes, resins, or other heavy hydrocarbons near the wellbore are good candidates for stimulation by this technology. The use of the enzyme technology to release these deposits and create an enzyme-water permanent surface of the rock near the wellbore increases inflow of fluids to the well and increases oil production.
The releasing mechanism is done in a catalytic manner; the enzyme does not react with or form stable compounds with hydrocarbons. The properties of the enzyme and components in the enzyme treatment solution changes oil-wetted solid surfaces to enzyme-water wetted.
Enzymes are organic catalysts and the enzymatic function of the product is because the enzymes seek and release the oil but are not consumed in the releasing mechanism.
The enzyme is specific to hydrocarbons, but not specific to the molecular size of the hydrocarbon. After the release of hydrocarbons, the enzyme remains in the water phase in the reservoir and is available to release oil from new oil-wetted surfaces.
Because the enzymes do not interact with acids, they can be used in combination with, for example, acid treatment of carbonate-based rocks, giving synergetic effects of enhancing flow conditions and releasing oil from the rock surfaces.
The enzyme fluid has not shown to interact with other oilfield chemicals such as scale inhibitors and biocides, so it can be used in combination with such chemicals. Stabilizers have also been added to the enzyme solution to make them resistant to high temperatures present in most oil reservoirs.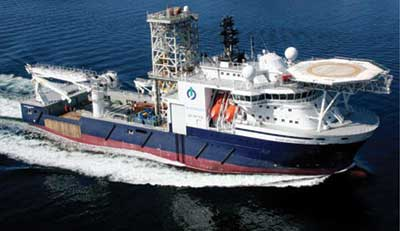 The light well intervention vesselIsland Wellserver has been working full-time since 2009 for Statoil. (Photo courtesy Island Offshore)
Proppants
A request from a major operator in the Gulf of Mexico led to the development of an ultra-conductive, ultra-high strength proppant technology to maximize and sustain hydrocarbon flow rates at 20,000 psi closure stresses for the life of the well. The significantly higher rates of hydrocarbon flow created by an ultra-conductive proppant enable operators to achieve a greater return on investment.
At 20,000 psi, Carbo Ceramics' Kryptosphere proppant has approximately twice the baseline conductivity of bauxite-based high-strength proppants (as measured by ISO 13503-5). As the reservoir depletes and closure stresses increase, the proppant retains its integrity to provide the long-term conductivity of each fracture, which increases ultimate recovery.
The proppant's sustained conductivity has been demonstrated during cyclic loading tests. After cycling closure stress between 20,000 psi and 12,000 psi five times, the difference in conductivity increased to almost four times that of comparable bauxite proppants. API Acid Solubility tests demonstrate that the proppant's acid resistant is more than 10 times greater than conventional high-strength bauxite proppants.
A beta factor one-fifth of conventional high-strength bauxite after cycling at 20,000 psi minimizes the impact of non-Darcy flow, reducing the multi-phase pressure drop through the fracture and delivering a more uniform flow profile.