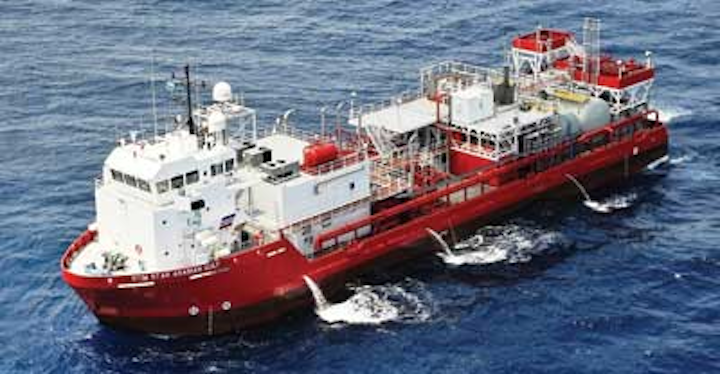 Displaying 2/3 Page 1, 2, 3Next>
View Article as Single page
DP intervention
Intervention, stimulation's close relative in the family of tools for increasing (or restoring) production, has also seen new developments to address the unique problems of offshore intervention operations.
Halliburton has performed a coiled tubing (CT) and catenary workover operation in the South China Sea from a dynamically positioned (DP) vessel. This is believed to be a first in the region.
In rough seas, regular work vessels have to separate from platforms, halting operations to pick up anchors to avoid dragging into undersea pipelines. During the monsoon season, workover operations virtually cease, compromising production. In quickly changing conditions, anchored vessels may not have the time needed to disconnect and pull up anchors.
Halliburton partnered with the owner of a DP vessel in Brunei to outfit it with coiled tubing and catenary equipment. The vessel remains in position when seas are high. There is also no need to transfer the CT reel, power pack, and control console to the platform, saving rig-up and rig-down time.
The use of the DP vessel enables Halliburton to quickly disconnect from the platform in the event of approaching weather. Because the CT reel was on the DP vessel and catenary disconnects were used, crews can quickly separate from the platform.
Riserless well intervention
FMC Technologies's riserless light well intervention (RLWI) system is intended for all types of wireline jobs using braided wire or slick line. It enables operations of tool strings with variable length and requires no circulation of well fluids to the intervention vessel.
The system can operate on all subsea tree configurations for production and injection wells. It has provisions for well kill and is designed to be as efficient as rig-based operations. It is currently available in 71⁄16-in., 10,000 psi configuration and includes upper and lower lubricator packages, together with a well control package and adapters to suit most subsea tree types.
A proprietary lubricator system is used to insert downhole tool packages into the wellbore under full pressure, without taking hydrocarbons back to the vessel or to the environment. The technology enables integrated operations and increases safety by reducing personnel exposure.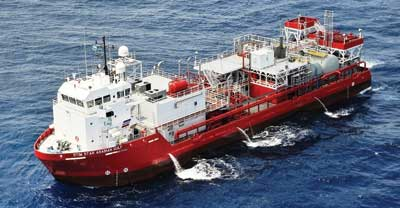 TheStim Star Arabian Gulf has acid-on-the-fly capability and can be reconfigured using the company's vessel modular solution system. (Photo courtesy Halliburton)
Light well intervention vessels
Statoil uses light well intervention (LWI) vessels to increase recovery from subsea fields, and says these vessels reduce costs.
The company operates approximately 500 subsea wells on the Norwegian continental shelf (NCS), where the liquid recovery factor of subsea fields is lower than for fixed installations. Maintenance of damaged wells and reopening of shut-in wells are important to increase the production rate and recoverable volumes.
According to Statoil, to maintain current production levels on the NCS toward 2020, it is vital to secure an efficient rig fleet adapted to the assignments. Sustainable cost competitiveness, drilling efficiency, and sufficient rig capacity are key factors. The company says that compared to conventional drilling units, LWI vessels reduce the cost of well interventions by approximately 60%. Reduced well intervention costs also help increase the number of interventions.
The company has carried out riserless light well intervention operations since 2000. These vessels are faster to redeploy than a moored semisubmersible. Statoil has three LWI vessels from Island Offshore in operations on the NCS. From 2015, two vessels from Island Offshore will be on contract for the company.
The light well intervention vessels are connected to a well with the aid of a subsea lubricator lowered to the seabed. They can perform logging and workovers, but they do not drill. During light well intervention services, downhole equipment is remotely operated via wireline from the surface and—unlike rigs—without a riser.
The "category A" units are designed for mid-water operations (70-450 m or 230-1,476 ft water depth), and can operate year-round across the entire NCS. The units are designed based on the company's functional specification and include the vessel, subsea wireline stack system, wireline, and ROVs.
The category A design for light well interventions offers advantages, the company says. It is cost-effective, uses dedicated equipment and tools, and provides permanent access to work and maintenance areas. There is no anchor handling, and a single service contractor is responsible for the complete operation.
The units are designed for efficient and safe handling of equipment. Skidding systems enable safe material handling of equipment and modules in rough weather conditions.
Under category A contracts, each contractor is responsible for wireline services and ROV services as an integrated part of the category A service. Statoil will award the contract on behalf of the participating licenses. TheIsland Frontier and Island Wellserver contracts are for five years, with two two-year options. The licenses participating in the cooperation are: Åsgard, Norne, Gullfaks, Oseberg, Heidrun, Snøhvit, Tyrihans, Tordis/Vigdis, Snorre, Statfjord, and Sleipner.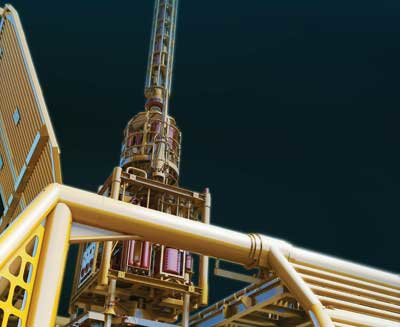 The riserless light well intervention system can perform operations on all subsea tree configurations for production and injection wells. (Photo courtesy FMC Technologies)