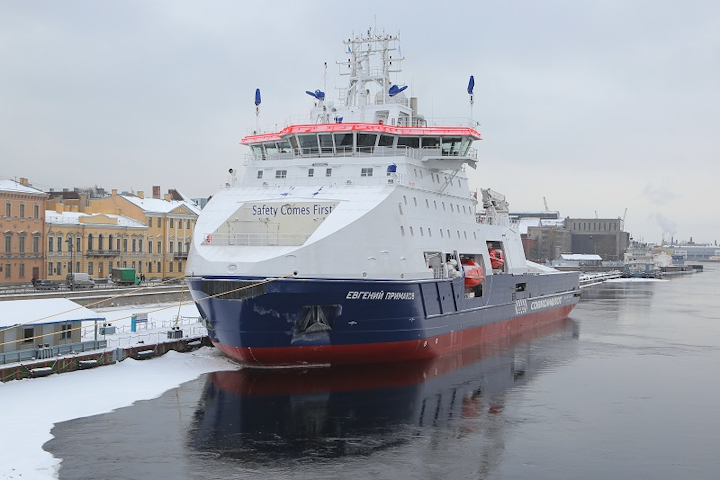 Offshore staff
ST PETERSBURG, Russia – A new multi-purpose icebreaking supply vessel for production platforms was named Yevgeny Primakov during a ceremony in St Petersburg last week.
The vessel was constructed under the supervision of the Russian Maritime Register of Shipping (RS) at the Arctech Helsinki Shipyard.
TheYevgeny Primakov, named after the Russian statesman, is the last of a series of four ships built to the RS class under a long-term collaboration agreement with Sovcomflot and Sakhalin Energy to operate in the Sea of Okhotsk offshore northeast Russia.
It is designed to provide safe operation for offshore oil and gas platforms, including those operating in ice conditions, and to prevent accumulation of ice ridges and heavy ice floes, or to break off the ice generated.
The vessel can provide year-round stand-by duty, responding quickly to potential emergencies and, if necessary, undertake subsea engineering and repair works.
It features two Azipod-type azimuth thrusters with aggregate capacity of 15 MW that can increase icebreaking capability when operating in ice up to 1.5 m (4.9 ft) thick and covered with 20 cm (7.9 in.) of snow.
The 104.4-m (342-ft) long, 21-m (69-ft) wide, 3,670-dwt vessel can in an emergency accommodate up to 150 people. It will operate under the flag of the Russian Federation.
02/08/2018