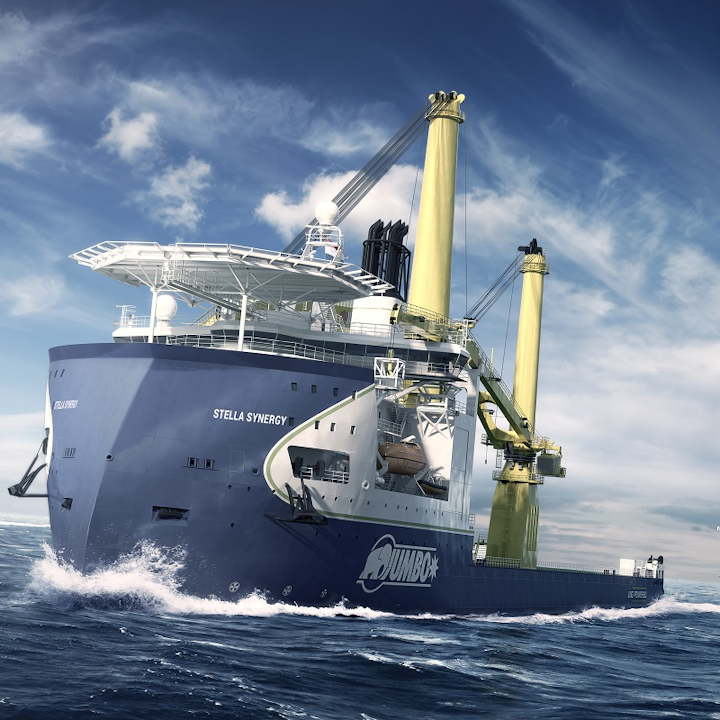 Offshore staff
SCHIEDAM, the Netherlands – Jumbo has named its new DP-2 heavy-lift crane vesselStella Synergy, following a naming competition among the company's employees.
Jiovanni Pardillo, a crew member with Jumbo since 2006, submitted the winning entry.
Jumbo designed the vessel with Ulstein Design and Solutions, the focus being on economic and technical efficiency and safety.
The vessel will be powered by dual fuel engines but will also be able to run on natural gas (LNG).
Its main crane will have a 2,500-ton capacity, with a triple hoist for complex upending operations and an active heave compensation (AHC) auxiliary block of 600-metric tons (661 tons) with a water depth rating of 3,000 m (9,842 ft).
The second subsea crane will have capacity for 400 tons with an AHC main hoist to control the position of a load relative to the seabed.
The hull's X-BOW shape should lead to a more consistent transit speed and better offshore workability in severe weather conditions, Jumbo said, adding that its length of 185 m (607 ft) and width of 36 m (118 ft) will make this the world's largest X-BOW.
04/18/2018