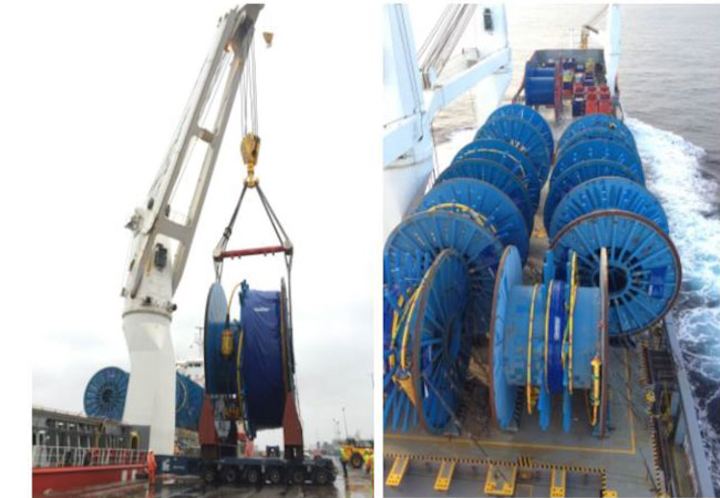 Offshore staff
HAMBURG, Germany– Hansa Heavy Lift has transported two dozen reels as well as subsea equipment for the Jangkrik Complex project offshore Indonesia.
TheHHL Richards Bay picked up the cargo at three different ports: Rosyth, UK; Le Trait, France; and Tanjung Langsat, Malaysia.
The company discharged the reels andsubsea equipment in Balikpapan, Indonesia, onto the offshore vessel Viking Neptun, in five mobilizations. Two more vessels, the Seismic Supporter and the Deep Orient, were used to load and offload some of the equipment from the HHL Richards Bay.
Henry Woo, Head of Asia Pacific, Hansa Heavy Lift, said: "This was a complex project which required a very careful planning process as well as continuous communication with all parties involved from the start. Our P2-1400 vessel type was the ideal ship for this project, as she provided enough space to stow and handle the cargo and enough crane capacity for discharging."
Before starting the project, the stowage plan had to be prepared in accordance with the different loading ports and a pre-defined discharge sequence to follow the offshore installation procedure, without shifting any cargo unit.
During the final move, Hansa Heavy Lift transferred 19 empty reels to theViking Neptun and loaded all the subsea equipment, while the remaining reels and equipment were discharged in Tanjung Langsat.
The seafastening calculation was prepared taking into account the sensitivity of the cargo, the strength of the reel structure, and the special requirements from the product manufacturer.
Other engineering analyses performed during the planning stage included a finite element analysis to assess the strength of the vessel's deck, as well as regular rigging, seafastening, and stability calculations.
04/11/2017