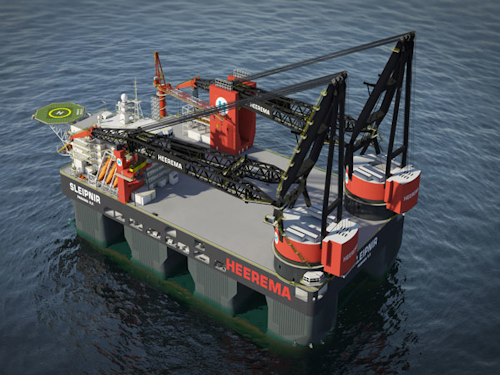 Offshore staff
SINGAPORE – Emerson Automation Solutions is providing a valve remote control (VRC) system for the semisubmersible crane vesselSleipnir.
It is currently under construction forHeerema Marine Contractors at Sembcorp Marine's shipyard in Singapore.
The 220-m (722-ft) long vessel is designed to install and remove large platform structures, subsea production facilities, foundations, moorings, and deepwater floating structures.
Both its revolving cranes can lift up to 10,000 metric tons (11,023 tons). The ship's ballast control system will stabilize theSleipnir during lifting operations, transferring water between onboard tanks to counter-balance the weight of shifting loads.
According to Emerson, the ballast control system must be able to operate reliably in demanding conditions and on a major scale. The Damcos VRC solution for the ship's fluid management and ballast systems includes a total of 847 valves, actuators, local power units (LPUs), and eight interface cabinets connected by a P-NET communication bus.
The IP68-rated LPUs are designed to operate while submerged at a depth of three bar (30 m) for at least 24 hr. They are mounted directly on the actuators and connected to the P-NET network, an approach that is said to save the shipyard installation man-hours through dispensing with hydraulic tubing and at the same time improving reliability due to the short circuit-tolerant design.
This configuration, Emerson claims, allows any LPU to fail entirely without affecting the other units in the loop.
01/06/2017