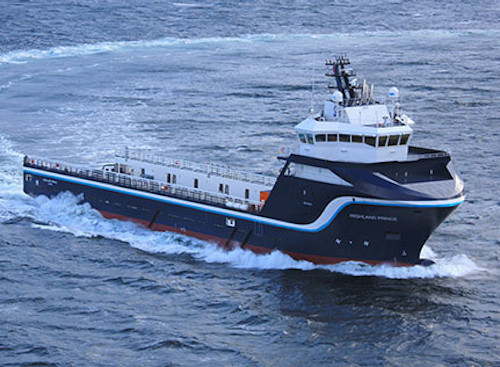 Offshore staff
HOUSTON – GulfMark Offshore has won two new long-term vessel contracts.
One, running for two years plus options, involves a charter of the platform supply vesselM/V Highland Prince, built in 2010, to ASCO Marine for use in the UK sector.
The vessel features diesel-electric, fuel-efficient propulsion, dynamic positioning Class 2, and a double hull, clean design.
GulfMark's other order involves a four-year (plus options) charter for theM/V Highland Defender to support drilling operations in the UK central North Sea for an unnamed operator.
This vessel, built in 2013, is said to be a state of the art DP PSV with oil recovery capability, clean design, and the special purpose ship classification.
Earlier this month the company's Norwegian subsidiary GulfMark Norge took delivery of the Arctic class PSVNorth Barents from Simek Shipyard in Flekkefjord, Norway.
The 5,000-dwt, DP vessel, built to Skipsteknisk's T-216 Arctic design, is the third of this type constructed for GulfMark. Features include DNV-classed clean design, winterized, ice class and oil recovery (NOFO 2009) notations.
It can accommodate 40 personnel (Comfort Class), has standby rescue certification NMD 300, and is compliant with the Special Purpose Ships Code.
Cost of the construction was around $42 million.
01/26/2017