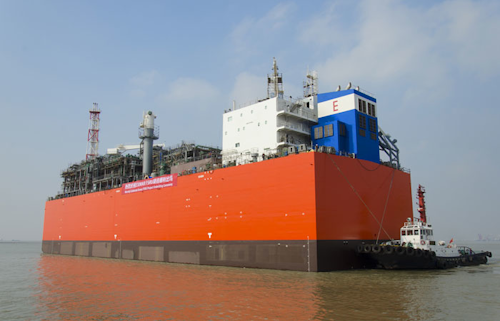 Offshore staff
SHANGHAI, China – The world's first barge-based floating storage and regasification unit (FSRU) has undocked from Wison Offshore & Marine's drydock in Nantong.
Topsides installation has since been completed, allowing the vessel to be delivered to contractorExmar. Both parties previously cooperated on the Caribbean FLNGvessel.
This was the first FSRU built in China and according toWison, the world's first with small-scale storage capacity.
The non-propelled barge has a regasification capacity of 600 MMcf/d. Two LNG storage tanks are inside the hull, each with a capacity of 12,500 cu m (441,433 cu ft).
A modularization strategy allowed the hull and topsides modules of the FSRU to be fabricated simultaneously, which according to Wison reduced the safety risks, improved construction quality, and helped to shorten the delivery schedule.
In addition, Wison developed its own cargo containment system and cargo handling system for the storage tanks.
01/25/2017