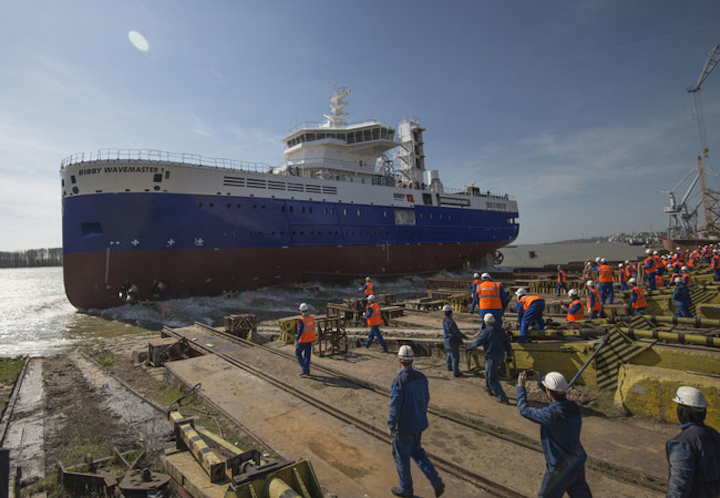 Offshore staff
GALATI, Romania– Damen has launched its first purpose-built service operations vessel (SOV) with walk-to-work (W2W) capability at Damen Shipyards Galati in Romania.
When completed, Bibby Marine Services Ltd. will deploy theBibby WaveMaster 1 to support upcoming offshore wind farm construction and operations and maintenance projects in the North Sea.
Delivery is expected in mid-August 2017.
The 90-m (295-ft)Bibby WaveMaster 1 is the first vessel to be commissioned by Bibby Marine Services Ltd. It features a motion compensated W2W access system for offshore transfers of personnel and equipment, a heave compensated offshore rated knuckle boom crane on a stable DP-2 vessel platform, a helideck, daughter craft, and CTV landings (with refueling).
The Comfort Class 2 standard accommodation comprises 60 ensuite berths capable of accommodating up to 90 persons on board; all are equipped with TV, Wi-Fi, and are complemented by comprehensive leisure facilities and office facilities.
The Damen SOV is said to be able to remain at sea for periods of up to one month at a time. The shipbuilder said the design incorporates the philosophies of Damen's E3 principle – Efficiency in operation, Environmentally friendly, and Economically viable.
03/24/2017