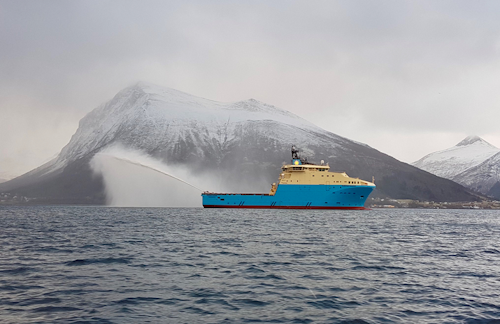 Offshore staff
LYNGBY, Denmark– Kleven has delivered the Maersk Maker, the final vessel of Maersk Supply Service's Starfish AHTS newbuild series.
TheMaersk Maker is a DP-2 deepwater anchor handling tug supply vessel (AHTS) of SALT design. Powered by five medium speed engines with total output of more than 23,000 horsepower, a fuel efficient and flexible hybrid propulsion system and fixed pitch on all side thrusters, the vessel is said to provide good fuel economy, low emissions, and good station keeping capabilities (ERN 4 x 99).
Also designed for high safe deck operations, the vessel is equipped with a multi deck handler system, anchor recovery frame, gypsy handling system and other aids.
The vessel's arrival completes the company'sfleet renewal program, with 10 newbuild vessels delivered and 23 vessels divested over the last three years.
Since March 2017, six M-class AHTS vessels of the Starfish series and four I-class subsea support vessels of the Stingray series have joined the Maersk Supply Service fleet. Both vessel series, the company says, have been designed to optimize reliability, energy efficiency, comfort, and safety.
The average age of Maersk Supply Service's current 44-vessel fleet has been reduced to less than 10 years. The fleet consists of 30 AHTS vessels, 12 subsea support vessels, and two platform supply vessels.
02/15/2019