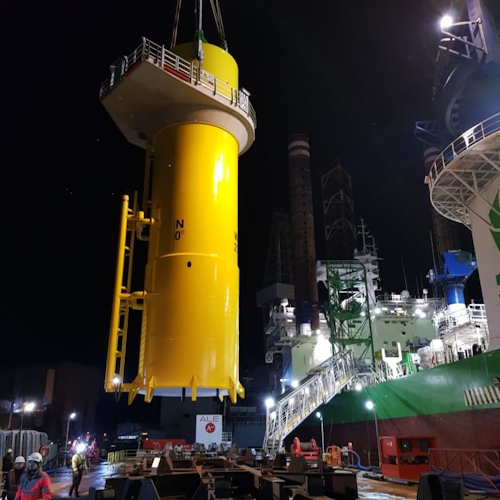 Offshore staff
STAFFORD, UK– ALE has completed the marine transportation, sea-fastening, load-out, and ballasting of more than 100 transition pieces (TPs) for Ørsted's Hornsea Project One wind farm offshore the UK.
ALE's scope began with the load-out of the TPs, each weighing 337 t and measuring 25 m (82 ft) high, from the fabrication yard onto the barge.Conbit provided the engineering for cost-effective storage and SPMT stability during the ALE transport operations at the yard.

As ensuring stability during the SPMT move was challenging, Conbit provided the engineering to enhance the hydraulic stability during the monopile positioning in relation to the sling configuration (used for loading onto the SPMTs) and positioning within the support cradles. The company also designed monopile cradles for the storage at the quay. These, the company said, were specifically optimized to reduce costs, as the need for welding works is reduced.
For the structural engineering, the Conbit team performed the structural integrity and sea-fastening calculations of the grillages on the deck of theSARAH S barge. Once on the barge, the TPs were transported on the River Tees to the discharge berth.
This project was the first job for ALE'sSARAH S barge. It is 3 m (9.8 ft) narrower than most North Sea barges, making it ideal for this project, as the barge could fit between the quayside and the offshore installation vessel, and fell in line with the vessel's crane radius limits for transferring the TPs from the barge to the installation vessel.
02/27/2019