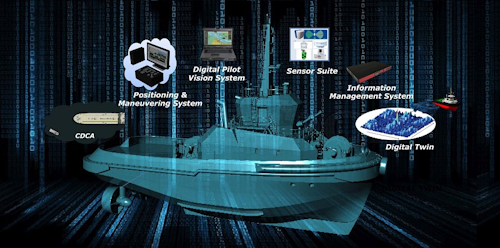 Offshore staff
SINGAPORE– Keppel Singmarine Pte Ltd. has started the development of an autonomous tug, which will be operated by Keppel Smit Towage.
It is expected to be one of Singapore's first autonomous vessels when the project is completed in 4Q 2020.
To develop the autonomous tug, Keppel Offshore & Marine has secured a grant of up to S$2 million ($1.5 million) from the Maritime Port Authority of Singapore (MPA) under its Maritime Innovation and Technology Fund.
This follows the memorandum of understanding signed by Keppel O&M, MPA, and the Technology Centre for Offshore and Marine, Singapore (TCOMS) in April 2018 to jointly develop autonomous vessels for a variety of applications including undertaking harbor operations such as channeling, berthing, mooring, and towing operations.
The project will involve modifying a 65-metric ton tug by retrofitting advanced systems such as position maneuvering, digital pilot vision, as well as collision detection and avoidance. An onshore command center will also be set up to remotely control the tug.
As part of the project, Keppel O&M, through its technology arm, Keppel Marine and Deepwater Technology, will work with MPA and TCOMS to develop various technologies and be the system integrator for the autonomous solutions. These technologies include a digital twin of the tug to simulate vessel behavior in multiple scenarios and optimize vessel operations, as well as data analytics tools to improve the control and response of the tug.
In addition, the company is with partnering M1, another member of the Keppel Group, to leverage its ultra-low latency 4.5G network connectivity to establish standards and data transfer links in terms of latency and reliability for the ship to shore communication, and support Internet-of-Things maritime applications.
04/10/2019