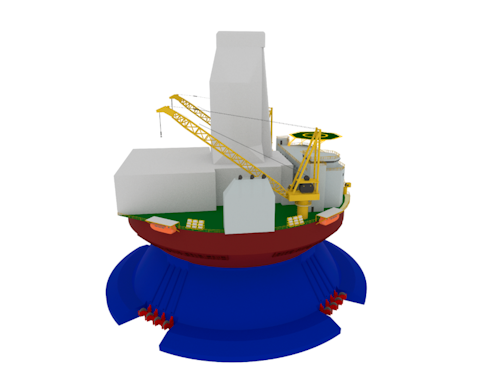 HǾVIK, Norway– DNV GL has awarded China Merchants Heavy Industry (CMHI) approval in principle (AiP) for the designs of an arctic single column drilling unit and a wind turbine shuttle.
The AiP confirms that DNV GL has assessed each of the two designs according to class rules and found no significant obstacles exist to prevent the concept from being realized.
The arctic single column drilling unit consists of a round floater with an upper and a lower hull, an enclosed deckhouse, and a round footing. It is designed for well work-over, exploration, and development drilling operations in water depths up to 700 m (2,297 ft) in moderate environments, including Arctic and sub-Arctic areas (open water and up to 1.5 m/4.9 ft ice thickness), moored by a 16-point mooring system.
The round conical shape of the strengthened hull structure is designed to deflect and break the ice, protecting the drilling riser and other equipment in the moonpool against level ice. DNV GL assessed the design according to a high-spec class notation string: 1A Cylindrical Drilling Unit(N) Crane-offshore(N) DRILL(N) E0 POSMOOR Non-self-propelled HELDK (S, H, N) DAT (-40) Ice(L) PC(5) Winterized(Polar, -45°C) BIS BWM(T) Clean(Design).
The wind turbine shuttle (WTS) was developed to install wind turbines at offshore wind farms. Unlike other installation vessels, the WTS has a small waterplane area twin hull (SWATH) design. This results in very low resistance at the design draught (16m) and excellent seakeeping performance, good motion behavior characteristics, and high transit speed of 14 knots, DNV GL said.
Capable of transporting and installing two fully assembled wind turbines or two wind turbine foundations, the vessel has a highly redundant dynamic positioning system installed and the wind turbine hoist tackles are equipped with an active system to compensate for the heave motion of the vessel. The WTS can provide a "one-piece" installation service for offshore wind turbines, as well as jacket foundations, piles, and other components. The design was assessed according to the class notations: 1A Column-stabilised Wind turbine installation unit Crane-offshore DYNPOS(AUTRO) E0.
04/17/2019