Regal Beloit offers rotor motors that help stabilize offshore operations
Regal Beloit says that a new era in offshore working has begun with the launch of its Barge Master platform – a unique invention of motion-compensation platforms to be used on board flat top barges and supply vessels.
Jun 10th, 2014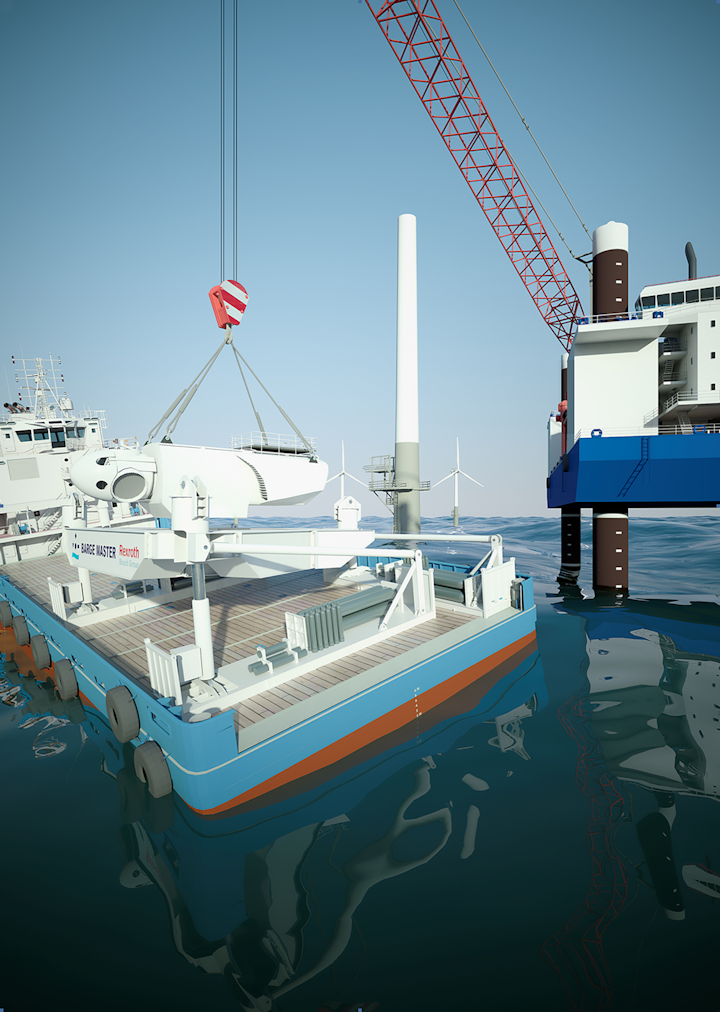 Offshore staff
HOUSTON–Regal Beloit says that anew era in offshore working has begun with the launch of its Barge Master platform – a unique invention of motion-compensation platforms to be used on board flat top barges and supply vessels. The platforms prove a stable base for cargo during vessel to platform transfers. They can also be used as a steady foundation for crawler crane lifting operations.
Designed as a low-cost, high-performance alternative to existing offshore and near-shore lifting equipment, such as jackup barges, Barge Master has an internal hydraulic mechanism that measures seawave and swell conditions and compensates for them so that the platform remains steady. With massive and unrelenting forces involved, a critical part of the system is the hydraulic power pack, which is driven by marine-approved electric motors supplied by Rotor BV, part of Regal Beloit.
Regal manufactures electrical and mechanical motion control products, serving an array of markets from heavy industry to high technology. Its manufacturing and service facilities are located worldwide. European Commercial and Industrial Motors operations include Marathon, Leeson, and Rotor; their headquarters are based in Eibergen,the Netherlands. Regal supplies a wide range of marine and industrial motors.
Rotor supplies marine motors for essential and nonessential service. These are supplied worldwide and create an integral part of onboard ship systems, port equipment, and offshore engineering. Reflecting its global reach, the marine motors can be supplied compliant with all local maritime approvals, includingBureau Veritas, the American Bureau of Shipping, Det Norske Veritas, Lloyds Register, Germanischer Lloyd, RINA Italia, Nippon KaijiKyokai (the Japanese Register), the Russian Register, the Chinese Register, and the Korean Register.
Barge Master has recently built its first platform with a 700-ton load capacity; the hydraulic pumps of this platform are powered by three 510-kW Rotor electric motors. This Barge Master platform was ready for commercial use from September 2012 onward, with production of more scheduled to follow. The design of each new Barge Master platform can be easily customized to specific requirements, if necessary.
In the moving 3D world of the sea, six degrees of freedom need to be compensated in order to keep the Barge Master platform from moving. Three degrees of freedom are compensated by restraining two translations (surge and sway) and one rotation (yaw) of a barge or vessel by using traditional anchors or a dynamic positioning system.
The remaining three degrees of freedom, one translation (heave) and two rotations (roll and pitch), are compensated by the Barge Master and its three hydraulic actuators. By controlling the actuators, which produce the counteractive motion, and measuring the heave, roll, and pitch, the platform is kept in an earth-fixed steady position.
The control system is based on the concept of servo feedback loops. The hydraulic system can measure the beginnings of a sea-induced movement and generate a reverse thrust to compensate for it; the larger the motion, the greater the compensatory reverse thrust
Maritime operations are always challenging; as a result, they can be expensive, with deteriorating sea or weather conditions often bringing work to a standstill. However, the Barge Master platform increases workable conditions, helping to contain cost and allowing deadlines to be met. It reduces dependence on high-cost specialist equipment such as jackup barges by allowing standard floating barges, vessels, and cranes to be used more widely. The safety of personnel is also improved.
Reliability at sea is an overriding requirement for marine engineering and electrical equipment, so Rotor marine motors are designed to provide dependable service even in the worst of conditions. They are engineered against water ingress, salt corrosion, and lubrication failure, and include features such as bearings and mounting feet sized for the extra loads that may be encountered in storm conditions.
In use, Barge Master has to provide an incredibly stable working platform. Relatively small rotations of a barge (say, 2–3 degrees) on which a crawler crane is placed could result in large movements, such as 4–5 m (13–16 ft), of the crane boom tip and, therefore, the hook and load. These movements, relative to the land or an independently moving second barge, make working safely practically impossible. Barge Master is so sensitive that it can fully compensate for such movements.
Roll, pitch, and heave also have significant impacts on supply operations. In the past, people working on drill platforms have had their supply schedules delayed for weeks or even months through the winter season. Barge Master is expected to make a significant contribution to the management of supply operations over the coming years.
Regal Beloit says that powering the system with Rotor electric motors provides a reliable service offshore for years. Rotor motors are compact with high output power. Therefore, they fit into the room available and produce all the power needed to compensate for the movements of the platform. Fitting a complete hydraulic system with a total of 1,530 kW in just one container was a system requirement that was not easy to fulfill. The complete Barge Master system, however, fits in standard, flexible shipping containers. That way, the Barge Master platform can be used on all seas, and Rotor motors can stabilize offshore operations.
06/09/2014