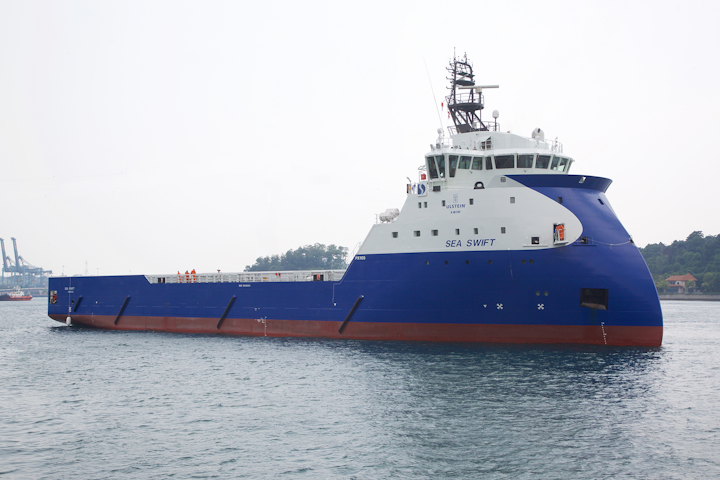 Offshore staff

NINGBO, China –Zhejiang Shipbuilding in Ningbo, China, has delivered Sea Swift, the final of 12 platform supply vessels of the large PX105 design to ship owner Deep Sea Supply Plc.
In addition to the basic design,ULSTEIN has delivered a comprehensive package of systems and equipment, as well as onsite support.
The Zhejiang yard, a part of theSinopacific Group, delivered all the deep sea supply vessels during 2013 and 2014. The 12 vessels are constructed for operations all over the world. Several of them currently work in the North Sea.
The Deep Sea Supply vessels are 88.9 m (292 ft) long and 19 m (62 ft) in beam. The vessels have diesel electric propulsion and can keep up a speed of 15.5 knots. The loading deck area is in excess of 1,000 sq m (10,764 sq ft), and the vessels each have a dead weight of 4,700 metric tons (5,181 tons). The X-BOW hull line is designed to eliminate slamming from head sea, increase comfort and safety, and reduce fuel consumption. The vessels comply with the DNV requirements of either the Clean or Clean Design standard.
ULSTEIN's equipment deliveries include diesel electric propulsion and engines, and the system deliveries include power distribution and propulsion, automation, internal communication and entertainment, navigation and radio. The vessels were among the first in which ULSTEIN had the switchboards produced at their own company in Ningbo, reducing delivery time due to shipment.
11/06/2014