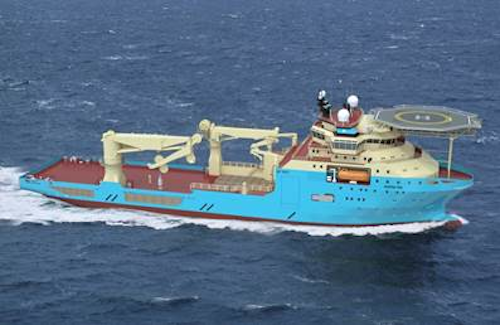 Offshore staff

COPENHAGEN, Denmark – Maersk Supply Service AS has entered into contracts with COSCO (Dalian) Shipyard for the building of four subsea support vessels, with options for two additional vessels. All the vessels are of MARIN TEKNIKK design. The contracts are valued over $470 million, excluding owner-furnished equipment from Maersk Supply Service.
Maersk Supply Service already has one subsea supply vessel and two anchor handling tug supply vessels on order from shipyards inRomania and in Chile.
The vessels are rated for operations in up to 3,000 m (9,843 ft) of water depth, and potential customers are international oil companies and construction companies. The vessels are scheduled for delivery in 4Q 2016 and 1H 2017.
Main specifications for the new subsea support vessels:
· Length: 137 m
· Beam: 27 m
· Deadweight: 8,000 tons
· Free deck: 1925 sq. m
· DP: Class 3
· 400T AHC crane rated for 3,000 m water depth
· Under deck carousel for 3,000 tons product (optional)
· Prepared for 275 ton VLS (vertical lay tower) over deck moon pool
· Configured to accommodate 120 persons in single cabins
· Design: MT6027
08/13/2014