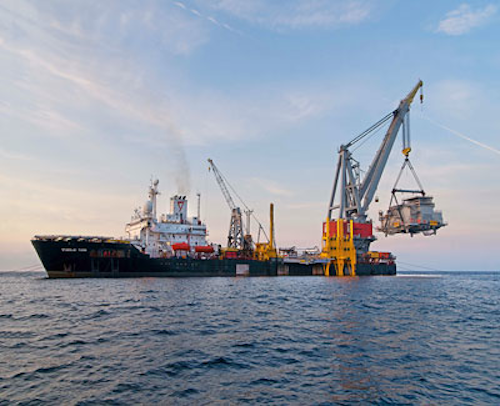 Offshore staff
ZOETERMEER, the Netherlands – Seaway Heavy Lifting has ordered Amarcon's OCTOPUS-Onboard decision support technology for the monohull crane vessel Stanislav Yudin.
In 2011 Amarcon, a subsidiary of ABB, supplied this technology for Seaway'sOleg Strashnov. Both vessels are designed to perform a range of offshore heavy installation tasks.
Amarcon's latest delivery will include motion monitoring and forecasting.
The motion forecast allows the "master" to select the most favorable heading during installation operations offshore, with the minimum roll and pitch motions.
An interface withStanislav Yudin's 2,500-metric ton (2,756-ton) revolving crane will enable the master to monitor, view, and store the motions of the crane tip within the OCTOPUS-Onboard system.
Additionally, Seaway will have access to OCTOPUS-Online, so the onshore operations department will be constantly informed about the vessel's location and status, with insight into the vessel's forecast and measured motions and accelerations during installation tasks.
03/06/2014