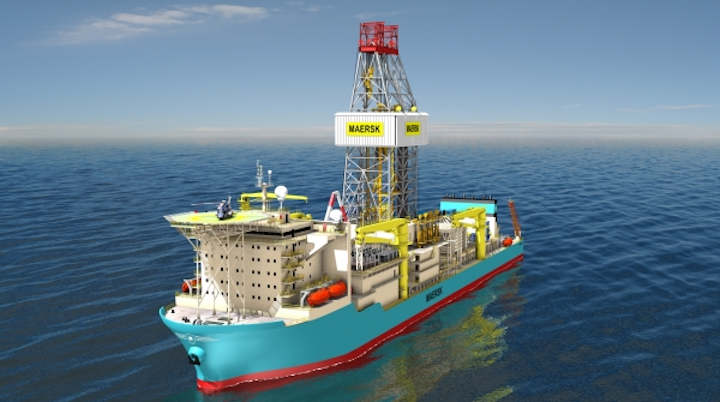 Offshore staff

Copenhagen, Denmark – Maersk Drilling has contracted Samsung Heavy Industries to construct two ultra-deepwater drillships at a total cost of $1.3 billion. The vessels are scheduled for delivery in 3Q 2013 and 4Q 2013. The contract has an option for two more drillships.

Maersk says the 228 m (748 ft) long drillships will be able to operate at water depths up to 12,000 ft (3,650 m) and capable of drilling to more than 40,000 ft (12,200 m). The DP system will maintain a fixed position in severe weather conditions with waves up to 11 m (36 ft) and wind speeds up to 26 m/sec (58 mph).

Similar to Maersk Drilling's ultra deepwater semisubmersibles, the drillship design includes features for high efficiency operation including a dual derrick, and extensive storage areas and tank capacities. Together with the higher transit speed the increased capacity will reduce the overall logistics costs for the oil companies. The drillships will have accommodation capacity for 230 people.

04/06/2011
Rendering of Maersk Drilling's deepwater drillship design.