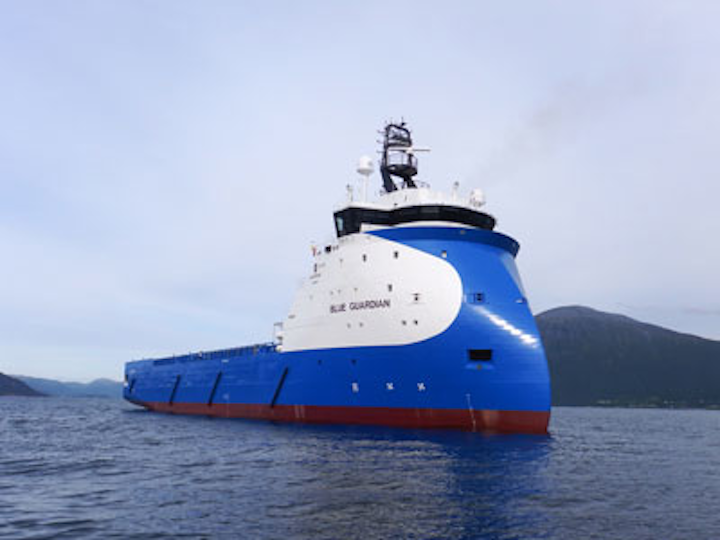 Offshore staff
ULSTEINVIK, Norway – Ulstein has delivered the new platform supply vessel (PSV) Blue Guardian to Blue Ship Invest. This is the fifth in a series of six PSVs of the PX121 design, and is under the management of Remøy Shipping.
From mid-July, it will work for Det Norske Oljeselskap and Repsol Exploration, supporting the jackupMaersk Giant's work on two subsea wells.

Blue Guardian is 83.4 m (273 ft) long with a18-m (59-ft) beam, and a maximum speed of 16 knots. It has a load capacity of 4,200 metric tons (4,630 tons) dwt, and the 850-sq m (328-sq ft) cargo deck can carry a deck load of 2,200 metric tons (2,425 tons).
In addition to tanks for oil, water and drilling fluids, the vessel has four stainless steel tanks for flammable liquids. There is accommodation onboard for 23 personnel. The IMO Class 2 dynamic positioning system meets the requirements of DNV's Clean Design notation.

Like other PX121s, it has been adapted to Norwegian sector needs, including more power to maintain position alongside the rig in bad weather, and reduced nitrogen oxide (NOx) exhaust emissions. In addition, these vessels carry the light ice class (ICE-C) notation, which allows them to work in regions farther north.

Ulstein Power & Control provided the electrical systems, including power distribution and electrical propulsion, the information and communication system ULSTEIN COM, integrated navigation systems, and the integrated automation system ULSTEIN.

7/02/2013