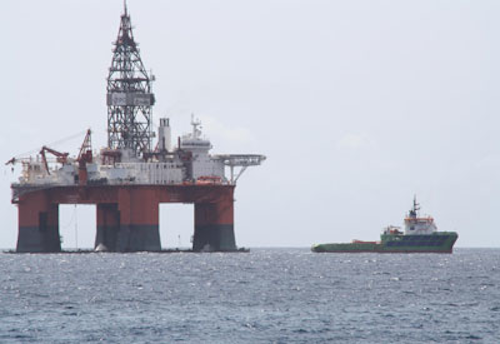 Offshore staff
ROTTERDAM, the Netherlands – Fairmount Marine's tug Fairmount Glacier has towed the semisubmersible drilling rig La Muralla IV from Okpo, South Korea, to Bay of Campeche, Mexico.
The Mexican Grupo R-owned semisubmersible drilling rig was constructed by Deawoo Shipbuilding & Marine Engineering.La Muralla IVis 118.6 m (389 ft) long and 96.7 m (317 ft) wide.
Fairmount Glacier hooked-up with the rig at the end of October 2012 in South Korea. The convoy sailed via Sunda Strait en Cape of Good Hope toward the Gulf of Mexico, where it arrived at the end of February. The tow covered more than 16,200 mi (26,071 km).
During the voyage bunker stops were made in Singapore, Mauritius, Walvis Bay, and Curacao. At Mauritius, theFairmount Glacier performed several runs between the port and the La Muralla IV to transfer cargo and crew.
3/05/2013