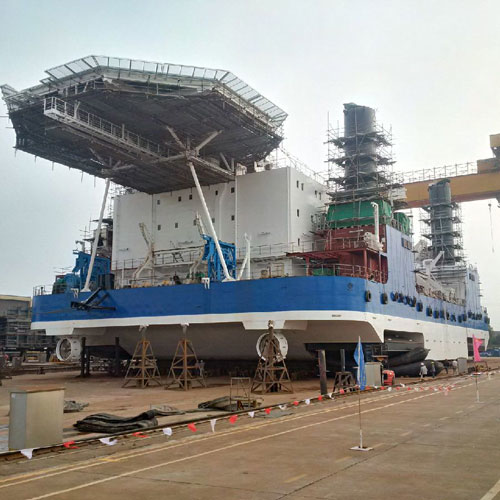 Offshore staff
JIANGSU, China – Mekers Offshore has launched the first of two new self-elevating liftboats at the Dajin Heavy Industries yard.
Last year Mekers contractedAqualis Offshore to supervise construction of the Zhejiang-based company's liftboats.
The scope of work extended to ensuring that all work was performed in accordance with the contract, its specifications, the client's expectations, flag and class requirements.
The four-legged, DP-2, self-propelled vessel, which can work in water depth of 70 m (229 ft) and accommodate up to 250 people, is designed for work over and well intervention.
A large open deck area is available to carrying equipment and supplies for various offshore exploration, production, and support activities.
According to Aqualis, the liftboat can be deployed rapidly to provide a stable platform in its elevated position for maintenance and construction work. Various international companies have provided all the main equipment.
It is due to be delivered in 1Q 2017 with the second liftboat to follow later the same year.
10/26/2016