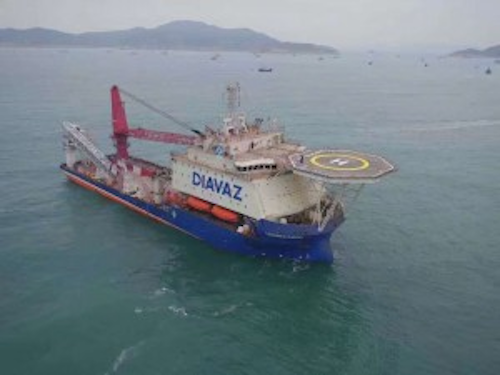 Offshore staff
BERGEN, Norway– Diavaz-Oceanteam Shipping (DOT) and Pacific Radiance have agreed to postpone the delivery of the offshore construction support vessel Tampamachoco 1(T1) for one year due to market conditions. Delivery is now scheduled for January 2018.
The Oceanteam joint venture with Mexico-based Diavaz holds an option to further delay the delivery for another year. Pacific Radiance will absorb the additional costs for the deferred delivery.
The vessel, which completed sea trails last November, was built on time, within budget, and has secured post-delivery finance. The companies said the vessel can be delivered on short notice when market circumstances improve.
TheT1 is the first in a series of a new generation topsides and subsea maintenance vessels developed by DOT Shipping and sailing under the Mexican Flag. The T1 is a DP-3 multi-purpose, 300 p.a.x. vessel, which combines a 300-ton topsides crane with an additional subsea crane capability, a 29-m (95-ft) beam, and a high-capacity walk-to-work-system that is permanently installed.
12/16/2016