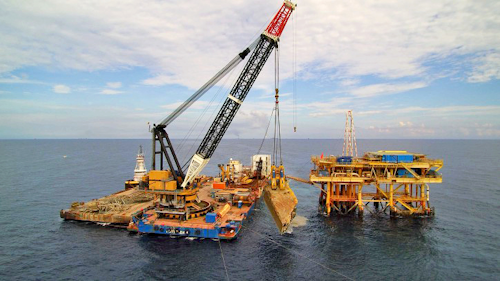 Offshore staff
AMSTERDAM, the Netherlands – Conquest Offshore's heavy-lift barge MB-1 has supported the salvage operation of the jackup Troll Solution in Mexico's Bay of Campeche.
In May 2015, the rig collapsed during preparatory positioning for maintenance work for a production platform, sinking 30 m (98 ft) to the seafloor.
Salvage contractor Ardent Global deployed theConquest MB-1 and hoisting technologies described as "non-traditional," with a 1,000-ton hydraulic salvage grab.
This year, six pieces comprising the rig's deck house and 31 sections of its hull were retrieved to the surface.
Conquest claimed this was the world's largest salvage operation of 2016, and that the project attained more than 10,000 operational hours without any mechanical downtime.
Michiel Zwagerman, CEO of Conquest Offshore, said: "The project showed excellent integration from the people, assets and technologies, and we look forward to conquer more challenges with our partners in the offshore industry."
TheConquest MB-1 is currently in the Louisiana area of the Gulf of Mexico.
12/22/2016