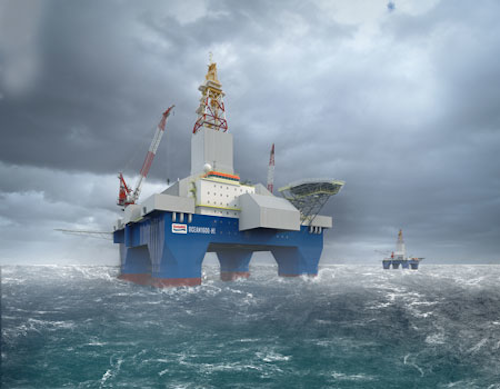 Offshore staff
SCHIEDAM, the Netherlands– GustoMSC has launched a new harsh environment drilling semisubmersible series: the OCEAN-HE.
The OCEAN850-HE and OCEAN1600-HE form the basis for respectively the mid water anddeepwater harsh environment regions of operations. The semisubmersible hull shape is especially designed for low motion characteristics and optimum station keeping capabilities.
The OCEAN1600-HE is the largest drilling semi design by GustoMSC to date. With a maximum displacement of approximately 70,000 tons, a large derrick, DP-3 and a 16-point mooring system for station keeping, it is designed to cope with theNorth Atlantic environmental conditions.
The OCEAN850-HE is a moored-only harsh environment semisubmersible of approximately 50,000 tons displacement with a water depth rating of 1,000 m (3,280 ft), and a sixth-generation efficient single derrick combined with horizontal riser storage.
GustoMSC's proprietary OCEAN series, started in 2008, has produced five units. With the introduction of the OCEAN-HE series the company is able to provide full coverage of the harsh environment drilling spectrum.
08/29/2016
Share your news withOffshoreat news@offshore-mag.com