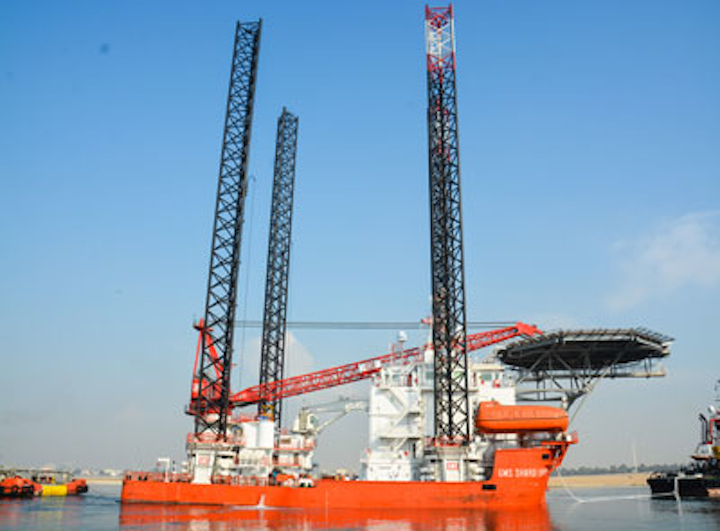 Offshore staff
ABU DHABI, UAE – Gulf Marine Services (GMS) had a contract backlog of $443.9 million early this month for charters of its offshore service/support vessels.
Most of the company's present work is brownfield opex-related.
Over the past year GMS secured a four-year contract in theMiddle East North Africa region for a large class self-elevated support vessel (SESV), with another vessel in this category chartered for four years to work in the Dutch North Sea.
Currently the company runs a fleet of 14 SESVs, said to be the world's largest: most work in the Middle East with two in Europe. The SESVs were engaged primarily in well services and accommodation support last year.
GMS is also marketing the recently deliveredGMS Sharqifor charters.
Charter rates have been under downward pressure due to lower oil prices. However, when vessel use is high there is limited scope for material cost reductions, the company points out, as certain operating costs for vessels tend to remain relatively fixed.
Toward the end of 2015 GMS relocated its shipyard to a larger facility at Zayed Port in Abu Dhabi, which will allow the company to perform more fabrication work in-house.
The large class vesselGMS Evolution, which will complete the current newbuild program, is scheduled for delivery during 4Q. 
Four new competitor vessels entered theMENA market in 2015: two are not self-propelled while the jacking systems of the other two, GMS claims, are unsuited to frequent jacking requirements for well services.
Elsewhere, the contractor is looking for fresh opportunities in the offshore sectors ofWest Africa and Southeast Asia.
The company is developing cantilever systems for its mid-size class and large class SESVs. These, the company claims, will allow it to deliverwell intervention services more efficiently and quickly, and to provide a greater range of services from its vessels.
The first large cantilever heavy well intervention system, due to be delivered at the end of 2016, will be installed on theGMS Evolution, allowing GMS to compete for workover activity that could previously only be performed from jackup drilling units.
Unlike drilling rigs, the GMS SESV fleet is entirely self-propelled and does not require tugs or similar support vessels for moves between locations in the field.
03/30/2016
Share your news withOffshore at news@offshore-mag.com