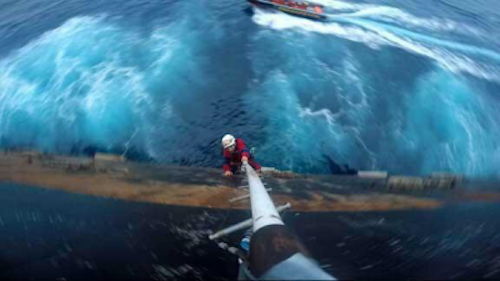 Offshore staff
PACIFIC OCEAN - Six Greenpeace volunteers in opposition of Arctic drilling have intercepted Shell's Polar Pioneerin the Pacific Ocean, 750 mi (1207 km) northwest of Hawaii, scaling the 38,000 metric ton (41,887 ton) platform.
Last week, theUS Department of Interior (DOI) approved Shell's drilling lease for the Chukchi Sea in the Alaskan Arctic.
The team of six boarded the vessel from inflatable boats launched from the Greenpeace shipEsperanza. The volunteers will set up camp on the underside of the Polar Pioneer's main deck. They aim to unfurl a banner containing the names of millions of people from around the world opposed to Arctic oil drilling.
Greenpeace says that the volunteers will not interfere with the navigation or operation of the vessel.
"We can confirm that protestors from Greenpeace have illegally boarded thePolar Pioneer, under contract to Shell, jeopardizing not only the safety of the crew on board, but the protestors themselves," Shell said in a statement. "Shell has met with organizations and individuals who oppose energy exploration offshore Alaska. We respect their views and value the dialogue. We will not, however, condone the illegal tactics employed by Greenpeace. Nor will we allow these stunts to distract from preparations underway to execute a safe and responsible exploration program."
ThePolar Pioneer, which is being transported on a 712 ft (217 m) long heavy-lift vessel called Blue Marlin, is one of two drilling vessels heading towards the Arctic for Shell this year.
According to Shell's revised outer continental shelf lease exploration plan, filed with the Bureau of Ocean Energy Management under the US DOI in August 2014, Shell plans to drill six explorations wells withNoble Discovererand/orPolar Pioneer.The supermajor notes in its plan that the Discovereris ice-strengthened, and the Pioneer is capable of drilling in harsh environments.
04/07/2015