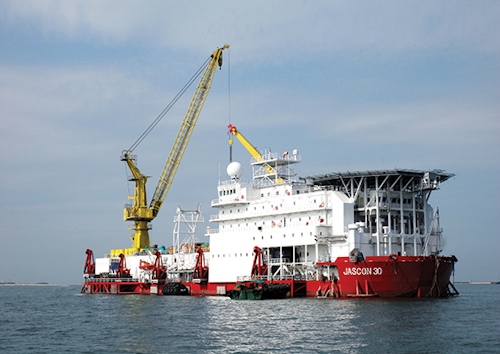 Telford Offshore acquires seven vessels
Telford Offshore has acquired a DP-3 pipelay and accommodation vessel and six offshore support vessels following a legal settlement between Sea Trucks Group (STGL in liquidation) and West African Ventures. The transaction brings the company's DP-3 fleet to five.
The DP-3 vessel, Jascon 30, is set to be drydocked and upgraded in preparation for use worldwide under its new name, Telford 30. The vessel is expected to be ready for deployment later this year.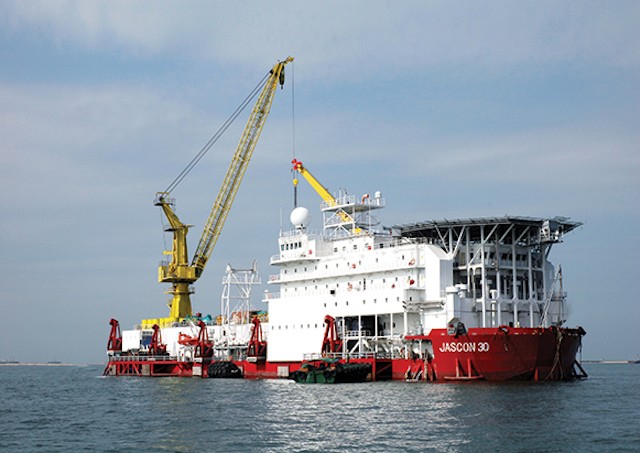 The Jascon 30, a DP-3 pipelay and accommodation vessel, will be renamed Telford 30. (Courtesy Telford Offshore)
The six offshore support vessels, which are all anchor handlers, will be deployed in Nigeria with the company's partner Afrimarine Charters. They will be prepared to start work on projects during 1Q 2019 as Telford moves to increase its presence and commitments in Nigeria and West Africa.
Maersk Supply Service completes fleet renewal program
Kleven has delivered the Maersk Maker, the sixth and final vessel of Maersk Supply Service's Starfish AHTS newbuild series.
The Maersk Maker is a DP-2 deepwater anchor handling tug supply vessel (AHTS) of SALT design. Powered by five medium speed engines with total output of more than 23,000 horsepower, a fuel efficient and flexible hybrid propulsion system and fixed pitch on all side thrusters, the vessel is said to provide good fuel economy, low emissions, and good station keeping capabilities (ERN 4 x 99). Also designed for high safe deck operations, the vessel is equipped with a multi deck handler system, anchor recovery frame, gypsy handling system and other aids.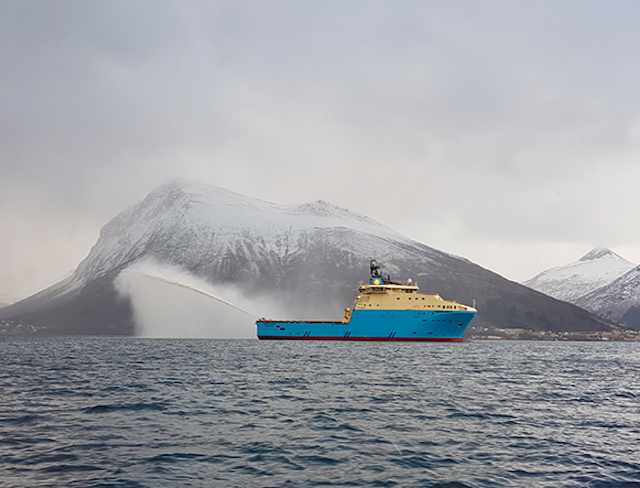 The Maersk Maker is a DP-2 deepwater anchor handling tug supply vessel. (Courtesy Maersk Supply Service)
The vessel's arrival completes the company's fleet renewal program, with 10 newbuild vessels delivered and 23 vessels divested over the last three years. Since March 2017, six M-class AHTS vessels of the Starfish series and four I-class subsea support vessels of the Stingray series have joined the Maersk Supply Service fleet. Both vessel series, the company says, have been designed to optimize reliability, energy efficiency, comfort, and safety.
The average age of the company's current 44-vessel fleet has been reduced to less than 10 years. The fleet consists of 30 AHTS vessels, 12 subsea support vessels, and two platform supply vessels.
Noble buys second newbuild jackup from PaxOcean
Noble Corp. plc has exercised an option for the purchase of a second newbuild Gusto MSC CJ46 design jackup rig from the PaxOcean Group for $83.75 million.
Like the Noble Johnny Whitstine, which it purchased last September in connection with a Saudi Aramco contract, the newbuild CJ46 design jackup, to be named the Noble Joe Knight, was built at the PaxOcean Graha shipyard in Batam, Indonesia.
The rig is built for operations in moderate drilling environments and can operate in water depths of up to 375 ft (114 m), with well depths of 30,000 ft (9,144 m). The rig features a modern drilling control system, along with a versatile cantilever skidding system and two BOPs.
The Noble Joe Knight will be relocated to a shipyard in Singapore for commissioning and final outfitting ahead of the expected start of operations during 3Q 2019 under a three-year primary term contract, plus a one-year option, with Saudi Aramco.
Julie J. Robertson, chairman, president and CEO of Noble Corp. plc, said: "The CJ46 design is an ideal drilling unit for many applications in the Middle East…"
Liza FPSO expected to sail-away this summer
SBM Offshore has issued an update on its FPSO construction programs.
In the Fast4Ward program, the company's first standard, multi-purpose hull is progressing well and according to schedule at the Shanghai Waigaoqiao Shipbuilding and Offshore (SWS) shipyard in China. Last November, the company contracted the SWS shipyard to build the second hull for which progress is in line with expectations. Due to anticipated demand, SBM has progressed negotiations to start work on its third standard, multi-purpose hull. These negotiations are expected to be closed in 1Q 2019.
Construction of the FPSO Liza Destiny at Keppel Shipyard in Singapore is progressing well, the company said. The last modules were lifted on board and commissioning activities are under way. Sail-away is planned for this summer so that the vessel can be installed offshore Guyana later in the year.
In Guyana, work is under way with respect to operations readiness, setting up the shore base and delivering on its local content commitments.
The company added that with engineering now nearly completed, the fabrication of the turret mooring system for the Johan Castberg FPSO is well advanced in Dubai. It remains on track to meet Equinor's schedule with delivery in early 2020.